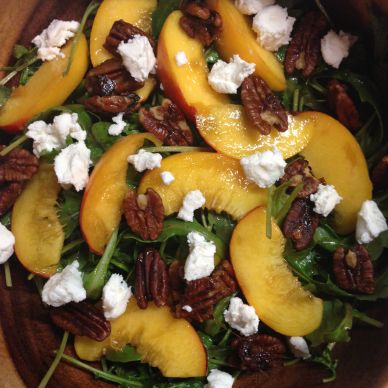 This salad was stalking me all summer. First up, my Mom and I split a delicious salad (at Boston Pizza of all places), that had arugula, pesto, peaches, beets, goat cheese and candied pecans. Yes please! This started the obsession. Then, Annie posted something very similar on her site with many of the same ingredients. Finally, Jan posted the prettiest salad on Instagram that also had peaches and maple pecans, and switched up a few things too, like adding chicken and blue cheese.
I was loving all of these ideas so much, but I couldn't keep track of which salad had what, so I literally made a chart in my little notebook: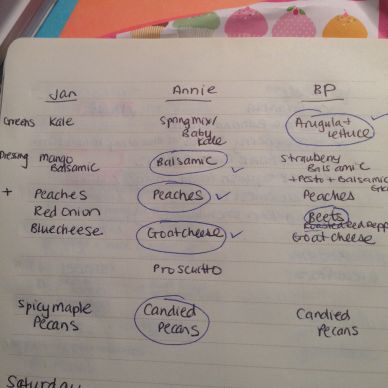 I was on an arugula kick the week I made this, so that was my base. Fresh, juicy Ontario peaches obviously went in, and were the star of the show. Goat Cheese was in on it too. I used Annie's recipe for brown sugar and butter pecans, only because I couldn't find spicy maple pecans on Jan's blog! I stopped there because I'm lazy, but would have roasted some beets to add in, like the Boston Pizza salad. Finally I used my favourite balsamic vinaigrette from Kiwi & Bean.
I'm drooling just thinking about this. Of course it can be made year round, but the peaches really send it over the top, so maybe this will be something special to save for the end of summer. (I also didn't get around to baking anything with peaches this summer, so this is my peach entry for 2016)
Peach, Goat Cheese & Arugula Summer Salad
Source: a few, as listed above
Ingredients
– arugula
– sliced peaches (fresh only!)
– crumbled goat cheese
– brown sugar and butter pecans (recipe below)
– balsamic vinaigrette (recipe below)
+ other add-ins: roasted beets, roasted red peppers, sliced red onion
Directions
Add the arugula to a big bowl or platter, and arrange the peach slices on top. Crumble goat cheese over the whole thing.
To make the pecans, melt 1/2 tbsp butter in a skillet, with 1/2 tbsp brown sugar. When sugar has melted, add the pecans and stir until lightly toasted, 3 minutes or so. Let cool then add to salad.
For dressing, combine the following in a mason jar and shake to combine: 1/4 cup olive oil, 2 tbsp balsamic vinegar, 1 garlic clove grated with a microplane, 1 tbsp dijon mustard, 1/2 tbsp honey