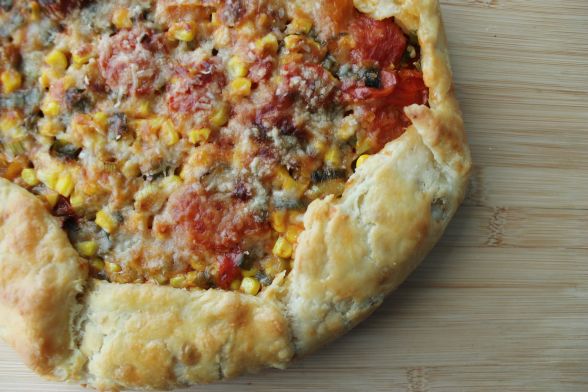 Once again another summer has gone by on my blog without a savoury recipe post. It's been all boozy cocktails and birthday cakes up in here. It's true, my will to cook is zapped by 40° days, and there are a lot of snack dinners going on, but I did make a couple great things which I wanted to write about before Fall truly arrives (#putdownthepumpkin).
I've made so many savoury galettes since I started Planet Byn, but they've all been the kind of thing you want to eat when it's cold outside (Butternut Squash & Caramelized Onion is my favourite). Same idea in this case, but with a fresh, summery filling of burst cherry tomatoes, fresh corn sliced off the cob and scallions. It's supposed to have zucchini too, and I left it out (I sometimes convince myself I hate zucchini), but would add it in next time for sure.
This was a perfect late summer dish, and it didn't even take too long to pull together either. I ate it with a simple arugula salad on the side, and packed up slices for lunch in the week too.
Burst Tomato Galette with Corn & Zucchini
Source: Smitten Kitchen
Ingredients
Crust
1 1/4 cups flour
1/4 tsp salt
1/2 cup (1 stick) butter, cold, and cut into cubes
1/4 cup sour cream
2 tsp lemon juice
1/4 ice water (to start, you might need a little more)
Filling
1 tbsp olive oil
3 cups cherry or grape tomatoes, different colours if you can find them
pinch salt
pinch red pepper flakes
1 small zucchini, diced
kernals sliced off 1 ear of corn
3 green onions, thinly sliced
1/2 cup finely grated parmesan
+ egg wash (1 egg whisked with 1 tsp water)
Directions
For pastry, combine flour and salt in a large bowl. Add the butter, and cut into the flour using a fork or a pastry cutter, until it's the size of peas.  In a small bowl, whisk together the sour cream, lemon juice and water.  Pour over the dry ingredients and mix together with a spoon, then use your hands to gently knead the dough together into a ball (you might need more water to bring it together).  Wrap in plastic wrap and chill for 1 hour.
For filling, place a saute pan with a lid over medium-high heat and add the olive oil, tomatoes, salt and red pepper flakes. Shake the pan over the heat until the tomatoes start to burst and release some juice. Turn down the heat to medium and add the zucchini and cook for two minutes, then the corn and cook for one minute. Remove from heat and stir in the green onions. Let cool until room temperature.
When filling is cool, preheat the oven to 400° and pull the dough out of the fridge. Roll it out on a lightly floured surface, to a 12″ round (little bigger than a dinner plate). Transfer to a baking sheet (rimmed if possible, and lined with parchment paper or tin foil, in case of any leaks). Add the filling to the centre of the dough and spread out leaving a 2″ border. Sprinkle the parm over top of the filling. Fold the dough over the filling, leaving the centre open. Brush egg wash over the dough.
Bake for 30-40 minutes until pastry is golden brown.