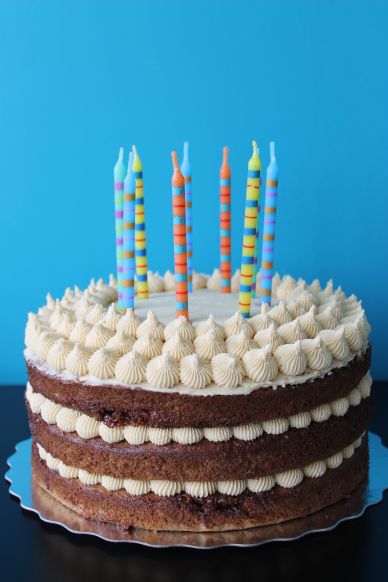 I feel like a broken record talking about how old my nieces and nephews are getting, but that doesn't make it any less true! This year my niece Charlotte turned 9, and she chose a Caramel Banana Cake for birthday, which was just an an excellent decision. This is three layers of a hydrated banana cake with caramel sauce swirled right in, plus caramel buttercream. It was pretty sweet, but served in small slices with a scoop of homemade double chocolate chip cookie dough ice cream, it was pretty perfect and there were no leftovers! (For future reference, it served about 20 people)
I copied the naked cake look from the original recipe on The Kitchen, but I piped on little starbursts that I thought would look super cute (in my opinion, I was right!). I picked up the candles from Papyrus and they were the perfect finishing touch.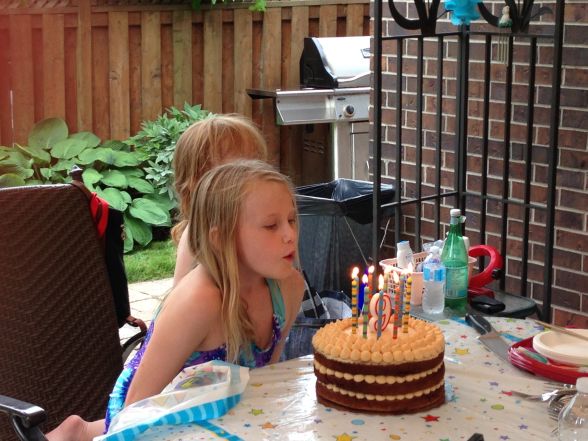 I'm posting the recipe for the cake below. The icing was one batch of My Favourite Buttercream with My Favourite Salted Caramel subbed in for the whipping cream.
Caramel Banana Cake
Source: The Kitchn
Ingredients
3 cups flour
1 1/2 tsp baking soda
1/2 tsp salt
1 1/2 cups milk or buttermilk
2 tsp vanilla
1 1/2 cups mashed bananas (4-5 medium bananas)
3/4 cup (1 1/2 sticks) butter, room temperature
3/4 cup sugar
3/4 cup brown sugar
3 eggs
+ double batch My Favourite Salted Caramel (you'll have enough to swirl into the cake layers, plus make one batch of My Favourite Buttercream)
Directions
Preheat oven to 325°, line three 9″ cake pans with parchment paper and spray with non-stick spray.
In a medium bowl, whisk together the flour, baking soda and salt.
In another medium bowl, whisk together the milk, vanilla and mashed bananas.
In a large bowl, cream together the butter, sugar and brown sugar until fluffy. Add the eggs and mix until combined. Add the flour mixture in three additions, alternating with the banana mixture, until smooth.
Divide the batter equally into the three pans (I weigh them to make sure they're even), then drizzle 1/2 cup caramel into each pan, swirling into the cake batter with a knife.
Bake for 40 minutes, until a toothpick inserted into the centre comes out clean. Cool pans on a baking rack for 30 minutes, then flip out to cool completely before icing.
For icing, I used a small star tip and piped little bursts onto each layer.
Charlotte's Previous Birthday Cakes:
8th (Minecraft Cake)
7th (Balloon Bouquet Cupcakes)
6th (Castle Cake)
5th (Rainbow Cake)
4th (Blue's Clues)
3rd (Big Greeny-Blue Cake)
2nd (Elmo)