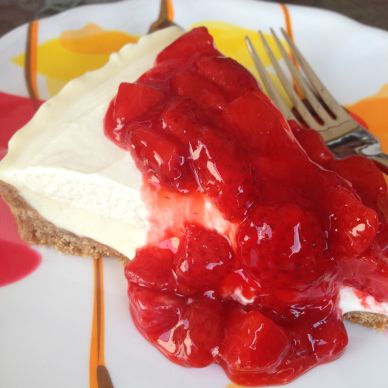 While I may not have figured out my signature summer cocktail just yet, here's my Summer Sixteen signature dessert. I made this two weeks in a row, and considering I hardly every make the same thing twice, it automatically qualifies.
This is what's happening in this four layer party in a pie plate:
Graham cracker crust – Classic.
Frozen cheesecake – I'm obsessed with this layer. It's just cream cheese mixed with sweetened condensed milk and a bit of vanilla. It stays a bit gooey even after freezing, and I'm into it.
Whipped cream – You can add this right before serving so it's light and fluffy, but both times I made it I froze it too, which I loved.
Fresh strawberry topping – So good. Fresh strawberries cooked down every so slightly with a bit of sugar, cornstarch and lemon juice into a delicious sauce.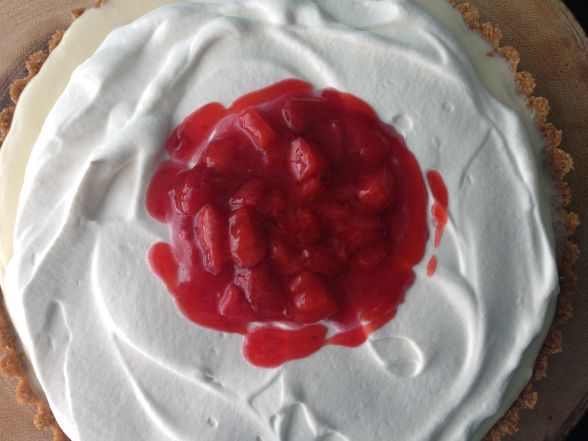 I made this in both a pie plate and a tart pan, and liked the tart pan better. You can pop the tart right out and use a big sharp knife to easily cut clean slices, then spoon the sauce over the top. This was a hit both times I made it, and you could easily switch up the fruit sauces (blueberry! peach!), and I've even been thinking of a chocolate version with an Oreo cookie crust and hot fudge drizzled over the top.
Frozen Strawberry Cheesecake Pie
Source: Smitten Kitchen
Crust
1/2 cup (1 stick) butter
1 1/2 cups graham cracker crumbs
3 tbsp sugar
big pinch salt
Cheesecake Layer
1 pkg (8 oz) cream cheese, room temperature
1 can sweetened condensed milk
1 tsp vanilla
Whipped Cream Layer
1 cup whipping cream
1 tbsp sugar
1 tsp vanilla
Strawberry Topping
1 lb strawberries, hulled and diced
2 tbsp sugar
2 tbsp water
1 tbsp cornstarch
juice of half a lemon
Directions
Preheat oven to 350°. In a microwave safe bowl, melt the butter, then stir in the graham cracker crumbs, sugar and salt until well combined. Press into a pie plate or tart pan, and bake for 10 minutes. Let cool completely.
For cheesecake layer, mix together cream cheese, condensed milk and vanilla with an electric mixer until smooth and well combined. Pour into cooled crust, and freeze for 6-8 hours or overnight.
For whipped cream layer, whip cream, sugar and vanilla until soft peaks form, then spread out over top of the frozen cheesecake layer.
For strawberry sauce, add the strawberries, sugar, water, cornstarch and lemon juice to a small saucepan, and heat over medium-low until it starts to bubble. Let simmer for 2-3 minutes, then transfer to a bowl and cool completely.
To serve, pop the tart out of the pan, slice, and spoon strawberry sauce over each slice.