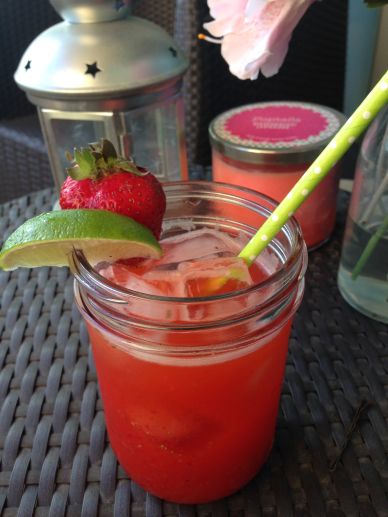 Don't get excited, this is not my Signature Summer Cocktail. The #1 rule of the SSC, as dictated by my friend Weedy, is that it has to be super simple and quick to mix up. This is definitely not that, but it's so delicious and vibrant that we have to talk about it anyway.
The first time I made these, I was too lazy to buy a bottle of Aperol, and instead replaced that with more Cointreau. BIG MISTAKE. The whole thing tasted like fake oranges, and you couldn't even tell there were fresh strawberries in it. Over the past few summers, I've made a lot of cocktails with fresh summer fruit, and found the most challenging part is making sure that the fresh flavour of the fruit shines through. This margarita is successful because you use a fresh strawberry puree, which you only have to shake up with a bit of sugar, instead of making simple syrup, which I always find annoying.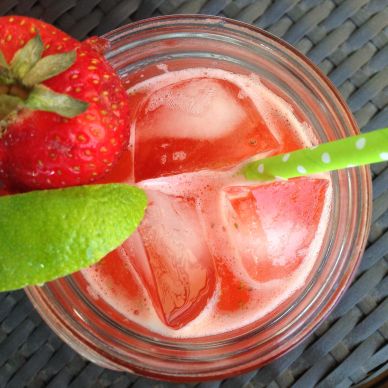 Anyway, this was so pretty and refreshing, it will definitely get made again next year as soon as strawberry season starts!
Fresh Strawberry Margaritas
Source: Annie's Eats
Yield: 3-4 margs
Ingredients
10 strawberries, hulled
1/4 cup sugar
3/4 cup tequila
1/4 cup + 2 tbsp lime juice
1/4 cup Cointreau (or other orange liqueur)
1/4 cup Aperol
Directions
Use an immersion blender/blender/food processor to puree the strawberries and sugar. Add to a pitcher, then mix in the tequila, lime juice, Cointreau and Aperol. Serve over ice, topped with sparkling water if you like, plus lime wedges and a sliced strawberry.