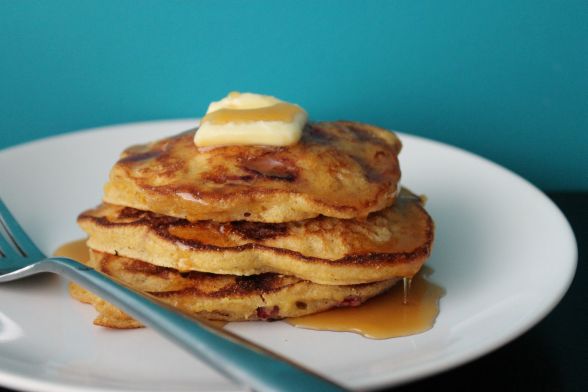 When strawberry season rolls around, I'm usually too busy eating them fresh to bake anything. This year I tried out a couple new things though, and liked them enough to post here. First up are these Strawberry Cornmeal Griddle Cakes, which were a lovely long weekend breakfast. I actually had some corncakes for brunch when I was in Chicago that I wanted to re-create, and this recipe was pretty spot on (except for the strawberries, the version I ate had cinnamon, pecans and whipped goat cheese!).
I don't normally put fruit IN my pancakes, instead preferring it ON them, but the cooked fruit turns into little pockets of jam as Smitten Kitchen says, which is okay by me.
Strawberry Cornmeal Griddle Cakes
Source: Smitten Kitchen
Ingredients
3/4 cup flour
3/4 cup cornmeal
2 tbsp sugar
1/2 tsp baking powder
1/2 tsp baking soda
1/2 tsp salt
3 tbsp butter
1 cup buttermilk
2 eggs
1 cup chopped strawberries
+ butter for pan
Directions
In a large bowl, whisk together the flour, cornmeal, sugar, baking powder, baking soda and salt.
In a medium, microwave safe bowl, melt the butter in the microwave, then whisk in the buttermilk and eggs, then stir in the strawberries.
Pour the wet mixture over the dry mixture and fold gently until just combined and no dry spots remain.
Heat your favourite pancake-making skillet over medium heat, and add a pat of butter. Once melted, drop small scoops of batter, flipping once bubbles start to pop up. I usually make the whole batch, eating what I want, then freezing the leftovers which can be reheated in the toaster like the best Eggo waffles.