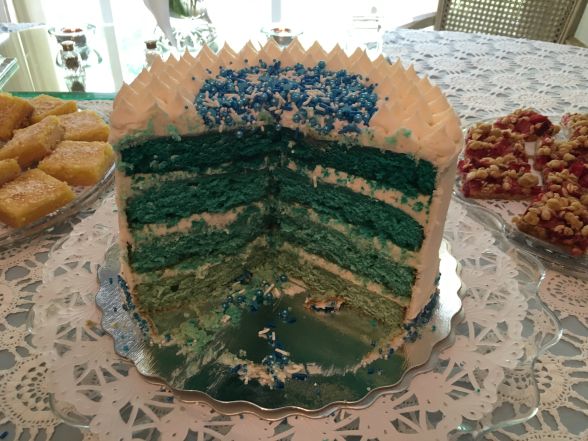 I haven't really done that much baking this month, as evidence by my lack of posts. I've been busy outside the kitchen, and also it is so. freaking. hot. I did make a couple of pretty amazing layer cakes in June and July, so I wanted to document them here.
First up is this gorgeous (if I do say so myself) turquoise ombré layer cake I made for Nicole's baby shower back in June. I wasn't able to attend the party (I was on a family trip), but I had to make sure I could still contribute to making the day special for Nicole.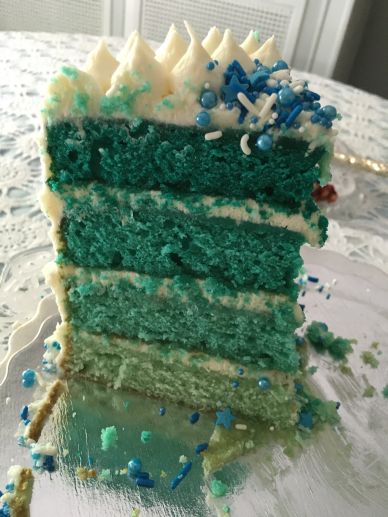 I told her I was going to make her this cake, and she also requested some squares (I made lemon squares and these strawberry rhubarb ones). The method was pretty straightforward, with a little bit of baking math mixed in:
First of all, I remembered to weigh the mixing bowl I was going to be using before I started, and recorded it
Then I mixed up Smitten's 1-2-3-4 cake, which is my go-to vanilla cake
I then weighed the mixing bowl again, with the cake batter in it. I took that number and subtracted the weight of the bowl to get the weight of just the cake batter. I then divided it by four, as I wanted to make four equal size cake layers. I can't remember what it was, but let's call it x grams. You'll see why this is important next.
With all my cake pans lined with parchment paper and sprayed with non-stick spray, I began the tinting process
To start, I added the smallest drop of turquoise gel colouring to the entire bowl and mixed it up. I removed x grams of cake batter into the first cake pan, and spread it out with the offset spatula.
I added another drop of turquoise gel colouring to the remaining batter in the bowl, and once I was satisfied it was distinct enough in colour from the first layer, I removed another x grams to the second cake pan.
Repeat for layers 3 and 4. Now you can see why the math is important. It allows you to work from the same bowl, tinting as you go, instead of splitting the cake batter into four bowls and mixing each separately.
I baked the cakes until done (12-15 minutes, I think), and let them cool.
I frosted it with a big batch of My Favourite Buttercream, piped on the detail with a large round tip, and filled the middle with a custom sprinkle mix I made from Bulk Barn.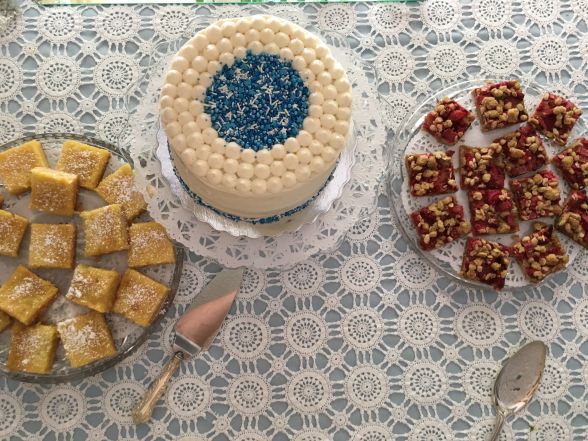 I had many happy texts from Nicole once the party was over, and she said everyone freaked out over the cake. The funniest thing was that she told me after that she was a little bit disappointed when she saw the cake; she thought it was going to have ombre icing on the outside. So she was super surprised and excited when she cut into it and found the ombre cake layers on the INSIDE!
Meanwhile, Nicole is currently three days overdue! C'mon baby, we're ready for you!