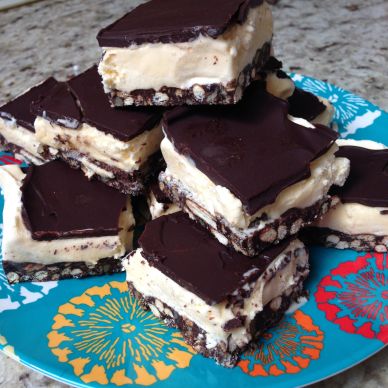 Baked Sunday Mornings is celebrating Canada Day today by remixing a classic Canadian dessert: Nanaimo Squares. My Mom always made these at Christmas time when I was growing up, but many Canadian families (ahem, Danielle) enjoy them all year round.
For my American friends, here's a quick lesson. A traditional Nanaimo Square consists of three layers:
Base: a no-bake crust made up of graham cracker crumbs, walnuts, COCONUT, and cocoa powder
Filling: vanilla custard buttercream
Topping: semi-sweet chocolate (the thicker the better, in my opinion)
The thing is though, coffee shops and grocery chains have ruined Nanaimo Squares for many people (meaning, me). Those store-bought versions are overly sweet and just gross.
The Baked Boys remixed the Nanaimo Square for Baked Occasions by swapping out the vanilla custard filling for ice cream! I was into this version, except I found that I really missed the coconut from the base layer (the Boys call for chopped up pretzels instead). I used vanilla ice cream in my filling for a classic Nanaimo flavour profile, but I like the other suggestions in the book for subbing in salted caramel, coffee or mint chip ice cream. Clearly I had trouble getting nice clean slices, but I'm sure that's solved with a little more patience.
These were a hit at my family Canada Day celebrations yesterday!
You can find the recipe here! (For a traditional Nanaimo Square recipe, scroll down on this post)
More Baked Sunday Mornings here!
Side note: LOL @ the Boys saying they enjoy the cooler summers in Canada. They've obviously never been to Toronto on a hot, humid summer day.