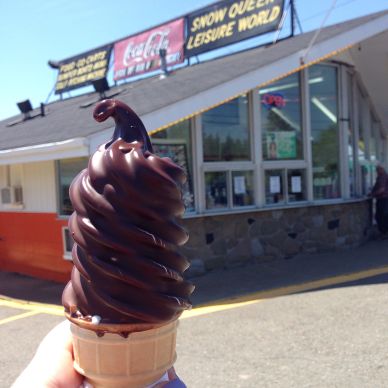 Summer has arrived in full effect, and I fully enjoyed it and soaked up as much of it as I could before being knocked out by a summer cold:
My friend Weedy and her son Ronan had me over for dinner, and it was such a treat. Weedy's signature summer cocktail is the Negroni, and she explained that your SSC has to be easy and quick to mix up. I love this strategy! She grilled lamb chops and asparagus and made some amazing crispy potatoes as well.  We ate in her backyard and talked until it was so dark we couldn't see.
Speaking of summer cocktails, I met my friend Krishna on the rooftop of Gusto 101 on a blazing hot day for brunch. She was having an Aperol Spritz when I arrived, so I had to copy her, especially after Annie made them last year. I loved it and will have to pick up a bottle of Aperol to re-create this soon (see above re: Signature Summer Cocktail!).
I met my old co-worker on the patio at Local, a restaurant in Liberty Village (where Origin used to be). We shared some guac and I had a fish taco that was incredibly light and crispy, totally a winner. I'd go back in a minute to try a bunch of other things on the menu.
Who knew that Parkdale has not one, but two tiki bars? Not me! I tagged along with Sarah and her friends at Miss Thing's where the drinks are served in vintage glasses, coconuts, and seahorse mugs and are super cute and colourful. I wasn't head over heels about the food, but would go back for the cocktails and overall vibe for sure.
My foodie girls and I returned to Tavolo where we hadn't been an ages. On Sunday nights they have a salad bar (is it all-you-can eat? We're not sure, but we went up multiple times anyway!) and delicious pasta or pizza for a steal of a deal. We also had this deconstructed cannoli dessert that I'm still thinking about.
Libby invited me to the launch of Hidden Burger, this secret spot in the back of The Bottom Line. The premise is that they only take orders via app, and for $10 you get a burger, fries and a drink. The burger was delicious, and I would definitely go back if and when a burger craving strikes.
I spent a long weekend in Nova Scotia on a family visit to my parents' hometown. Sadly my favourite childhood restaurant is now closed, but Snow Queen Leisure World is still in full effect! I made my Dad drive me here for a chocolate dipped cone, and it was the best!
Lydia and Aoife came over for happy hour to kick off the Canada Day long weekend, and we had fresh strawberry margaritas (I messed them up though, will post the recipe when I re-make it), guac and chips, plus some fresh watermelon and other snacks. So nice to sit on my balcony in the sun and catch-up.
Other non-foodie things I was obsessed with this month:
I didn't see many movies this month, but my Mom and I did go see Me Before You because we both read the book. I was still stuffed up from my cold, so crying my face off during this movie made breathing quite challenging. The only other movie I saw was Central Intelligence with The Rock and Kevin Hart. I'm not sure if it was because I had been cooped up in my place sick all weekend, but this movie was HILARIOUS. Kristine and I were definitely the only ones laughing at the Sixteen Candles scene at the end.
I started working my way through my summer reading list (might do a separate post on this), after finishing Longbourne, which was a re-telling of Pride & Prejudice from the servants point-of-view. I also re-read Prep, Curtis Sittenfeld's first book that I last read in 2006. Totally holds up.
When I was sick on my couch I watched both Sisterhood of the Traveling Pants movies, and it just makes me so happy that the girls are all still friends in real life!
Flashback!