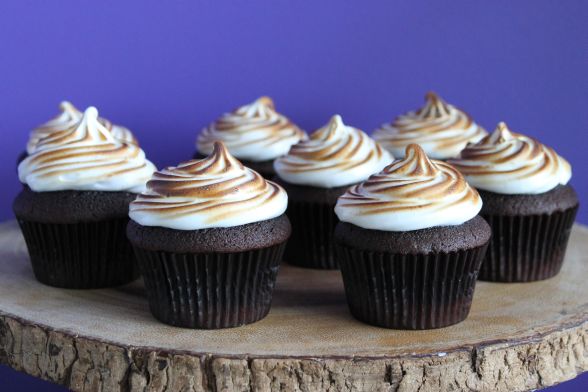 Finally, finally, finally I had S'mores Cupcake success!!! I don't know what it is, but I have the worst luck ever with marshmallow frostings. Even when I'm so careful and follow every tip in the book – making sure my egg whites are room temperature, have no trace of yolks, using a metal bowl, wiping it down with lemon juice or vinegar – sometimes my egg whites still won't whip to stiff peaks. I first tried this recipe back at Thanksgiving and had no luck with the frosting.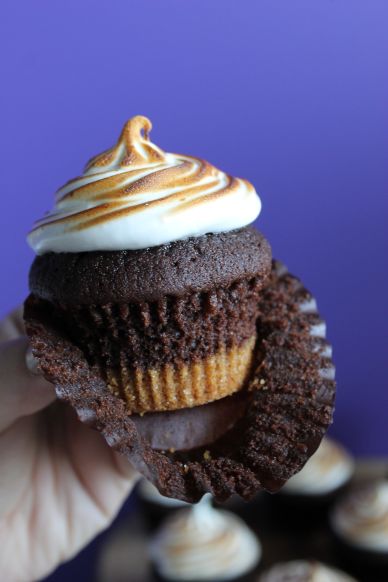 It was my nephew's birthday party a couple weeks ago, and I vowed to conquer this once and for all. I tried the same frosting recipe and had another disaster, but instead of giving up, I switched to another recipe from a different blog that worked for me in the past and had great success! I made two separate batches, but doubled it in the notes below, so I'm sure that would be fine.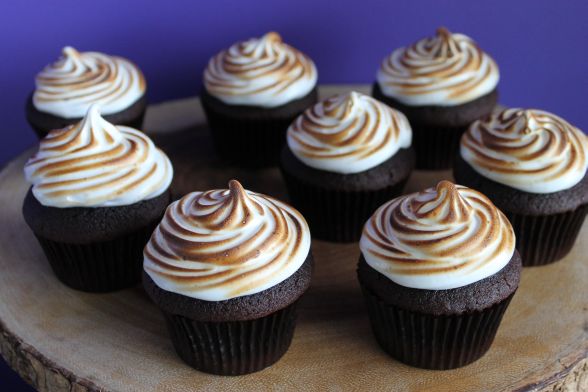 Anyway, after all that egg white madness, my reward came in the form of using my cute little kitchen torch to toast these babies up. They were a huge hit! I want to toast everything!
S'mores Cupcakes
Source: Annie's Eats + A Cozy Kitchen
Yield: 2 dozen cupcakes
Ingredients
Graham Cracker Crust
6 tbsp (3/4 stick) butter, melted
1 1/2 cups graham cracker crumbs
1/4 cup sugar
Chocolate Cupcakes
1/2 cup + 1 tbsp cocoa
1/2 cup + 1 tbsp hot water
2 1/4 cup flour
3/4 tsp baking powder
3/4 tsp baking soda
1/2 tsp salt
1 cup (2 sticks) butter, room temperature
1 2/3 cups sugar
3 eggs
1 tbsp vanilla
3/4 cup sour cream
Marshmallow Frosting
4 tbsp water
1 1/3 cups sugar
4 large egg whites, room temperature
1/4 tsp cream of tartar
1/4 tsp salt
1/2 tsp vanilla
Directions
Preheat the oven to 350°, and line two cupcake pans with paper liners.
For the crust, in a medium sized microwave safe bowl, add the butter, and melt in the microwave. Stir in the graham cracker crumbs and sugar until well combined. Add 1 tbsp of the graham cracker mixture to each cupcake liner. Use clean fingers or the back of a spoon (I used a pestle) to press down into an even crust. Bake for 5 minutes.
For the cupcakes, get out a small, medium and large (microwave safe) bowl. In the small bowl, mix together the cocoa powder and hot water until smooth. In the medium bowl, whisk together the flour, baking powder, baking soda and salt. In the large bowl, melt the butter in the microwave, then whisk in the sugar until combined. Whisk in the eggs, one at a time, then the vanilla, then the cocoa mixture.
Switch to an electric mixer, and add the flour mixture in three additions, alternating with the sour cream, beginning and ending with the flour mixture. Add mixture to cupcake liners, right on top of the graham cracker crusts. Bake for 18 minutes, or until a toothpick inserted into the middle comes out clean. Let cool completely.
For the marshmallow frosting, set up a double boiler (so, a saucepan with about 2″ of simmering water, with a heatproof bowl set over top that is not touching the water). Add the water, sugar, egg whites, cream of tartar and salt to the bowl. Using an electric mixer, mix together on low speed to combine, then slowly increase speed to high, whipping the mixture to stiff peaks. This should take about 5 minutes. Remove the bowl from the double boiler, and set on the counter on a tea towel. Whip for 2 more minutes, then add the vanilla and mix until combined.
To assemble, add the frosting to a piping bag with a large open star tip. Pipe onto cupcakes (start at the outside and swirl in). Using a kitchen torch, toast the marshmallow lightly until golden brown. (Alternatively you can do this under the oven broiler, but watch very carefully so you don't light the cupcakes, and your kitchen, on fire).