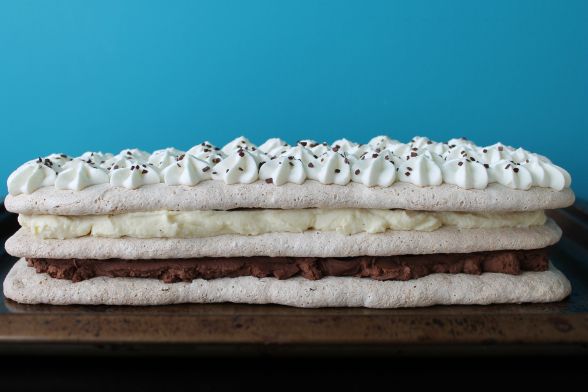 A few weeks ago I found an old plastic file folder at home that was full of recipes torn out of magazines in the pre-Pinterest days. I don't think I had opened it over a year, but dumped it out to find about 80% of the recipes were from the LCBO's Food & Drink magazine. I have love for this publication, but think it falls into the aspirational category for me (i.e. I never actually make any of the things I tear out).
I did find a couple recipes I wanted to hang to though, and this Hazelnut Dacquoise (sounds so fancy!) is one of them. I knew my Mom would love this for her Mother's Day treat, because she's always asking for this Butterscotch Pecan Meringue Torte, and I don't blame her, it's one of my favourites too.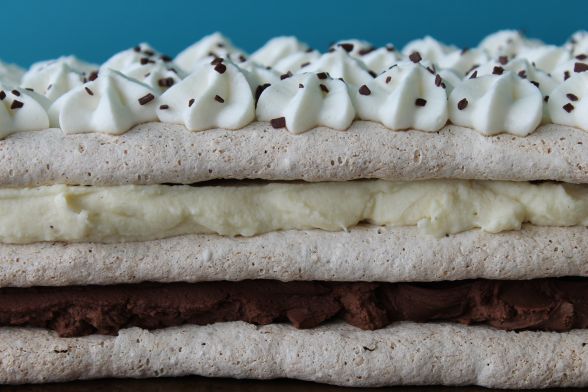 This was surprisingly simple to make, especially for a Food & Drink recipe! It's three hazelnut meringues, stacked up with whipped ganaches (dark chocolate + white chocolate) and topped with whipped cream. It looks so pretty and we loved it.
Hazelnut Dacquoise
Source: Food & Drink Magazine, Autumn 2010
Ingredients
Meringues
4 egg whites, room temperature
1/4 tsp salt
1 cup sugar
1 cup toasted, skinned hazelnuts, ground to fine crumbs in a food processor
2 tsp cornstarch
White Chocolate Filling
4 oz white chocolate, chopped
1/2 cup whipping cream
1 tbsp butter, room temperature
Dark Chocolate Filling
4 oz dark chocolate, chopped
3/4 cup whipping cream
2 tbsp butter, room temperature
Garnish
1 cup whipping cream
2 tbsp sugar
Directions
For meringues, preheat oven to 275°, and line two baking sheets with parchment paper. Draw two 11×3″ rectangles on one sheet, and another one on the second sheet, then flip over the parchment paper (so the side with the pencil/pen is facing down).
In a large bowl, whip egg whites and salt until frothy. Slowly add the sugar while whipping the egg whites on medium speed until they're thick and shiny, it should take about 5 minutes. Fold in the hazelnuts and cornstarch.
Divide the egg white mixture equally between the three rectangles, and spread into the shapes with an offset spatula. Bake for 1 hour and 30 minutes, then turn off the oven and leave the meringues in there until cool.
For the white chocolate filling, place the chocolate and butter in a bowl. Heat the whipping cream in a microwave safe glass measuring cup for 45 seconds in the microwave. Pour the hot cream over the chocolate and butter. Let sit for one minute, then whisk until smooth. Follow this exact same process for the dark chocolate filling. Cover both bowls with plastic wrap and chill for 1 hour.
Beat eat filling mixture on medium speed until thickened (it will look like whipped cream).
Place one meringue layer on a serving platter or clean baking sheet, and top it with the dark chocolate filling, spreading it out with an offset spatula. Place another meringue on top, and top with the white chocolate filling, spreading that out. Place the final meringue on top (at this point you can cover with plastic wrap and chill overnight).
For the garnish, whip the cream and sugar until soft peaks form. Add to a piping bag and pipe a cute design overtop. Add sprinkles for extra cute-ness!