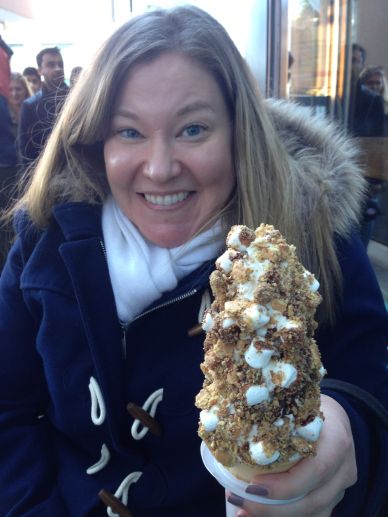 I feel like April is usually a pretty neutral month where nothing much happens, but this month it was long and weird and emotional. We had lay-offs at my work, a family friend passed away and Beyonce's new album turned out to be all about Jay Z cheating on her. Here's what else went down:
I spent the first week of April visiting my parents in Florida, and it was amazing as always. I spent my time as follows: at Target, watching Cooking Channel (how do Tiffani Thiessen and Tia Mowry both have shows?!), reading books (more below on that), eating Chobani Flips and drinking La Croix, two things I can't find here. My suitcase was also legitimately full of jars of Jif to bring home.
My friend Nicole and I finally went to Sweet Jesus to try their insane ice cream cones (pictured above). We waited about half an hour in line, in our winter coats, so I don't even want to know what the line-up situation is like when the weather finally warms up. We got two cones: Campfire S'mores (vanilla soft serve, marshmallow sauce, chocolate sauce, graham cracker crumbs, and mini marshmallows) and Bangin' Brownie (chocolate soft serve, chocolate sauce, caramel sauce, brownie bits and chocolate cookie crumble). It's a total hot mess trying to eat off the actual cone, so you can also get a cup to flip it into for easy snacking. We will be going back monthly until Nicole's baby arrives 😉
Kristine's sister had her baby and I mixed her up some of My Favourite Banana Muffins, and they were a hit! Misfit Aunts need treats too, so I made Kristine some sugar cookies shaped like Homer's Donut (pic on my Insta if you want to see).
Libby invited me to be her +1 at Fonda Lola's launch of their lunch menu. We got to try four different types of tortas, and the pork shoulder with pickled red onion was my fave. Churros with whipped caramelized cajeta for dessert!
Can you believe I went back to Cactus Club Café again? My friend Jenn and I went and had ALL THE APPS, plus a salad for balance (ha). We had a few leftovers and they pack it up for you in your own reuseable tote to take home! So classy. You're winning me over CCC!
It was my nephew's birthday and I made him a pretty sick Minecraft Cake! Post to come!
 Other non-foodie things I was obsessed with this month:
LEMONADE. Can't even put my thoughts and feelings into words here. The Formation Tour is in Toronto on May 25th and obviously I'll be there.
I read a bunch of books in Florida and have two recommendations. First, The Nest, which you've probably seen everywhere. I loved this story about a dysfunctional group of siblings fighting over their inheritance. Second, The Name Therapist. As a longtime reader of Duana's Name Nerd column on Lainey Gossip, I knew I would love this.
The Raptors are in the playoffs!!!
Flashback!