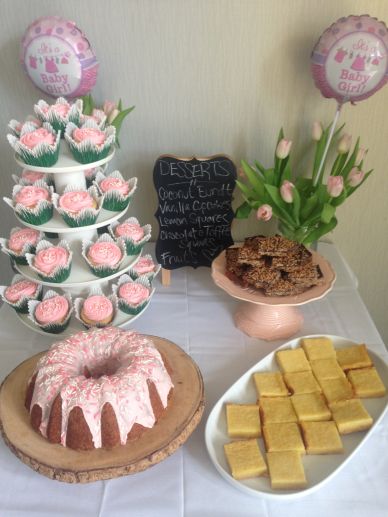 My friend Kristine's asked me to make some sweets for her sister's baby shower back in March, and I believe I responded "it is my joy in life to put together a treat table". She knew she wanted Dolly's Doughnut, plus two dozen vanilla cupcakes, and then we looked through some of my cookbooks and Pinterest boards to choose two squares: Classic Lemon and Chocolate Toffee Shortbread Squares.
She had picked up some cute cupcake liners at Winners that looked like grass, so I wanted to pipe rosettes out of icing. I had tried and failed at this in the past, and now I'm here to tell you the secrets to success: 1) use a CLOSED star tip (I started with an open tip and didn't get the results I wanted) 2) pipe from the inside out (you normally go outside in for cupcakes). They just turned out so cute.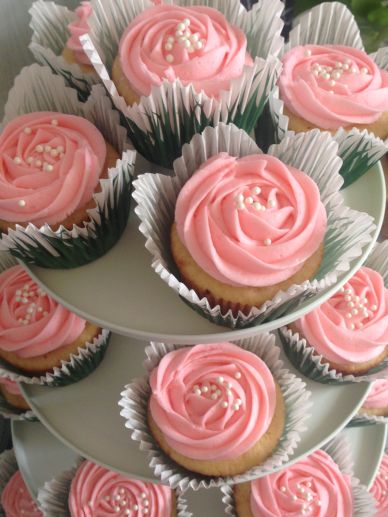 I was kind of shocked but excited that EVERYTHING was gone by the end of the shower! I don't think this has happened before! I was first nervous that I didn't make enough, but I think it was actually perfect.
Congratulations to Chi who is now the mom to a beautiful baby girl named Eleana. Here's my favourite picture from the day, of Alexis' daughter Mila (who is about to become a big sister!) rubbing Chi's bump, while licking a cupcake and contemplating life.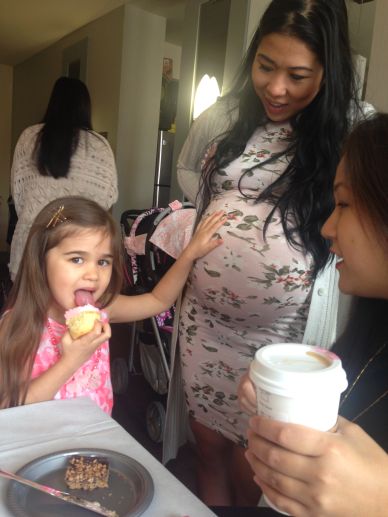 Here's the recipe for the Chocolate Toffee Shortbread Squares that Kristine picked out and also hid a few away for after the shower. Misfit Aunts need treats too!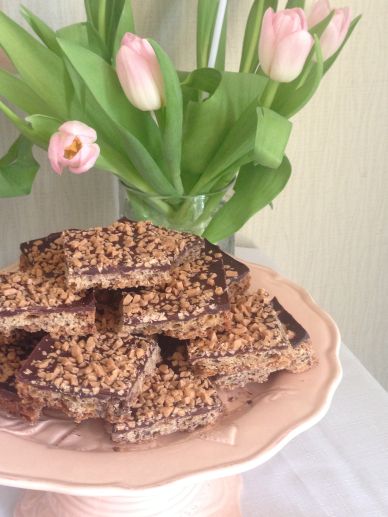 Chocolate Toffee Shortbread Squares
Source: Annie's Eats
Ingredients
1 cup (2 sticks) butter, room temperature
1/2 cup brown sugar
1/4 cup sugar
1 tsp vanilla
1 1/2 cups flour
1/2 tsp salt
9 oz semi-sweet or bittersweet chocolate, chopped (I used 70% Lindt), divided
1 1/2 cups toffee bits
Directions
Preheat the oven to 375° and line a 9×13″ pan with foil and spray the foil with non-stick spray.
In a large bowl, cream the butter, brown sugar and sugar together until combined and fluffy. Mix in the vanilla.
Add the flour and salt and mix until combined. Stir in 3oz of the chopped chocolate.
Press into an even layer in the pan and bake for 18-20 minutes.
As soon as you pull the pan out of the oven, sprinkle the remaining 6oz chopped chocolate over the base of the squares. Let sit for a few minutes until the chocolate is melted, then spread into an even layer with an offset spatula. Sprinkle the toffee bits on top.
Let fully cool, and when the chocolate is set, slice into squares.