This cake was on the front of Canadian Living last year and I was OBSESSED with it, but I was going to be in Florida for Easter, so I didn't get a chance to make it. I was so excited (#bakingnerd) to finally tackle it this weekend!
Inspired by an Instagram from Bake Shoppe, the inside was three layers of marble cake with Nutella frosting. The outside was My Favourite Buttercream, tinted turquoise. I was very nervous about the speckling, but it turned out so perfectly, and here's how I did it: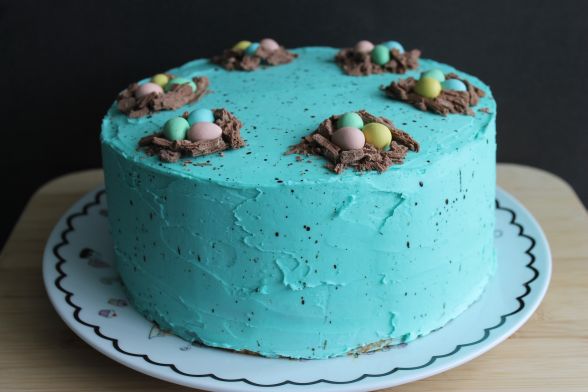 First I covered my counter and wall with parchment paper for easy clean up, anticipating that the speckling would splatter everywhere (I practiced on some cookies earlier in the week, so I knew what was coming)
I placed the cake (after chilling for 30 minutes after applying the final coat of icing) on a turntable on top of the parchment
For the speckling mixture, I whisked together 1 tbsp of vanilla extract with 1 tsp cocoa until no lumps remained and the mixture was really smooth
I dipped a small, clean paintbrush (that I use for baking projects, not paint, natch) in the cocoa mixture, and tapped it a few times on the side of the bowl so the excess dripped off. This was important because I wanted small, fine speckles and not big blobs or blotches
I held a wooden spoon in my left hand, the paint brush in my right hand, and tapped the paint brush against the wooden spoon, aiming at the cake (I practiced this technique earlier on the cookies, so I knew this would work)
I slowly rotated the cake, repeating the speckles until I was happy with the way it looked and the amount of speckles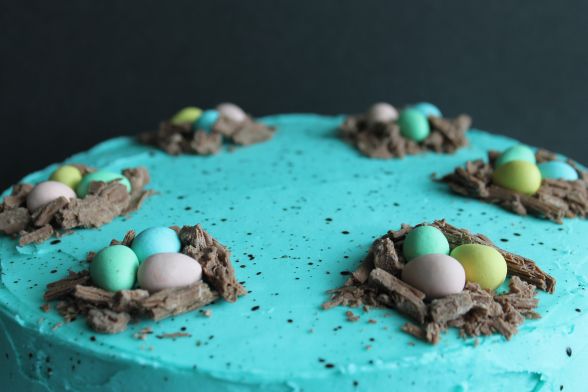 For the little nests on top, I placed the little groups of Mini Eggs on the cake and pressed gently to get them to stick. I crumbled up two Cadbury Flake bars (you can find them at Bulk Barn in the section with the all British chocolate and treats) and scattered them gently around the eggs to look like little nests.
I was just so, so happy with the way this cake turned out!!! It looked so beautiful and tasted amazing.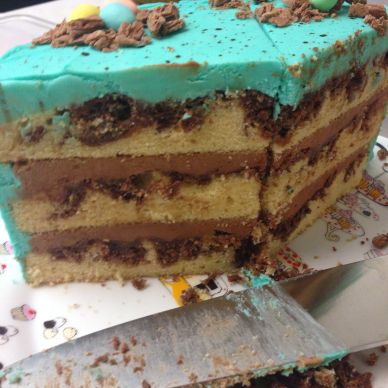 Recipes: