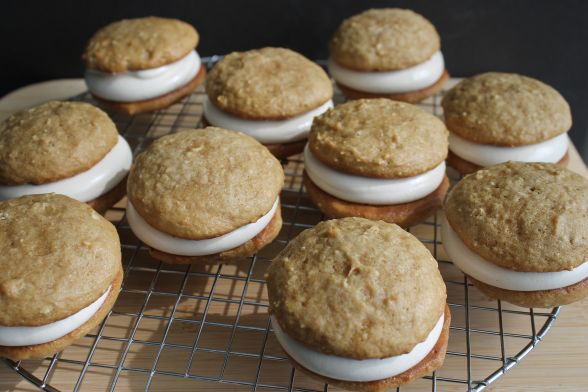 Happy Easter! For the second time recently, we're posting a holiday recipe on the actual holiday! Well, the rest of the group is, but I'm going rogue. They're making a Mega Easter Pie ("a meat and cheese utopia" as it's dubbed in the book), but I'm not really into it. Check out their posts here.
Instead I made these whoopie pies that the group made back in December. They're cakey cookies sandwiched together with a marshmallow filling spiked with maple extract.  My fellow bakers mentioned that the cookies spread quite a bit, so I chilled my batter overnight instead, and they stayed nice and puffy after baking.
I brought these to Easter dinner at my brother's house, but they were kind of overshadowed by the cake I brought which I'll post about later this week. I liked these, but to be honest I don't think I would make them again.
You can find the recipe here!
More Baked Sunday Mornings here!