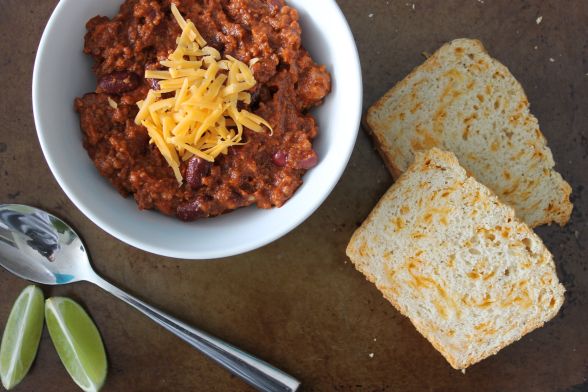 Ever so slowly, we're creeping our way toward Spring over here. I've downgraded from my DEFCON 1 parka to a lighter coat, and have shoved my winter boots to the back of the closet. I still wanted to get a couple more cold weather dishes in, so I busted out this chili last weekend.
Five years ago I wrote about the first chili recipe I ever made, and that's still the one I make every Fall. I mixed it up a little this time and used one of Carole's chili recipes, which includes a bottle of beer and a couple of links of chorizo. I used Mill Street Organic, but you can use whatever you have, and Carole says a dark beer is really nice in this. For the chorizo I went to Whole Foods, because you can just buy exactly what you need at the butcher counter.
To go along with the beer theme, I made this cheesy beer bread from Koko Likes. It's not a yeast bread, but uses baking powder and the fizziness from the beer to rise. I was all over this meal; as always, leftovers are amazing on top of oven-roasted potato wedges for homemade chili fries!
Chorizo Chili
Source: The Yum Yum Factor
Ingredients
1 tbsp olive oil
1 large onion, finely chopped
2 garlic cloves, grated with a microplane
1lb ground beef
2 links chorizo sausage, removed from casing
5 tbsp chili powder
2 tbsp cumin
3 cups crushed tomatoes
1 can red kidney beans, drained and rinsed
1 bottle (341 mL) beer
1 cup chicken stock
1 tsp salt (+ more to taste)
+ grated cheddar, sour cream, hot sauce, green onions for topping
Directions
Heat the olive oil over medium heat in a large dutch oven or saucepan. Add the onion and garlic and cook until softened, 2-3 minutes.
Add the ground beef and sausage, breaking up with a spoon. Cook until browned through. Add the chili powder and cumin and stir until combined.
Add the tomatoes, beans, beer and stock and stir again. Let it come to a simmer, then turn heat to low and cover partially. Simmer for about an hour, stirring occasionally.
Add 1 tsp of salt, stir and taste. I think I added a dash or two more.
Cheese Beer Bread
Source: Koko Likes
Ingredients
2 1/2 cups flour
3 tbsp sugar
4 tsp baking powder
1 tsp salt
1/2 tsp freshly ground pepper
4 oz cheddar, grated
1 1/4 cups beer (I used Mill Street Organic)
4 tbsp (1/2 stick) butter, melted
Directions
Preheat the oven to 375° and spray a loaf pan with non-stick spray.
In a large bowl, whisk together the flour, sugar, baking powder, salt and pepper. Add the cheddar and toss with your hands to mix it in.
Pour in the beer and melted butter, and stir gently with a spatula until evenly mixed, being careful not to overmix.
Add batter to pan, and bake for 40-45 minutes until golden brown on top. Let cool for 10 minutes in pan, then turn out onto a cooling rack.