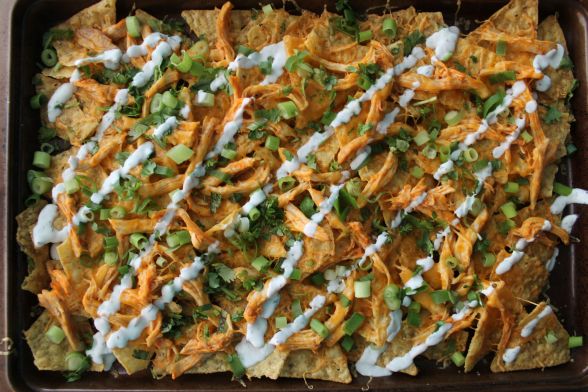 I fully realize no one needs a recipe for nachos, so I present this as more of an idea and reminder to my future self that these were delicious. While I love basic nachos with cheese and salsa/sour cream/guac for dipping, I wanted something a little different to snack on for NBA All-Star Weekend a few weeks ago.
My teenage/early 20s self was 100% obsessed with Vince Carter and the Raptors, and I think there's still a VHS tape in my parents basement with his iconic dunk contest from 2000 taped on it. I'm definitely more of a casual fan now, but I still try to go to at least one Raptors game a year and I always watch the playoffs.
So even though it was my 16-year-old self's dream that All-Star Weekend would be in Toronto, my 36-year-old self definitely couldn't afford tickets a couple weeks ago when that particular circus came to town. I was happy to sit on my couch, watch the dunk contest, eat these nachos and watch Vince's old dunks on You Tube.
Buffalo Chicken Nachos
Source: Inspired by Host the Toast, ranch drizzle from Half-Baked Harvest
Ingredients
Tortilla chips
1 large or 2 small chicken breasts, cooked and shredded (I cooked mine in the slowcooker) and tossed with 2 tbsp Frank's Red Hot + 2 tbsp melted butter
Shredded cheddar
Diced green onions
Chopped Cilantro
Greek Yogurt Ranch for drizzling (whisk together ½ cup plain greek yogurt with 2 tbsp buttermilk, ¼ tsp each dried dill, garlic powder, onion powder and a pinch of salt and pepper)
Directions
Preheat oven to 400° and spread out tortilla chips in a single layer on a big baking sheet.
Top with buffalo chicken and shredded cheddar, and bake about 10-15 minutes until bubbly.
Sprinkle green onions and cilantro on top and drizzle with ranch sauce (I added my ranch sauce to a squeeze bottle but you can obviously just use a spoon).
Eat with more Frank's and ranch sauce on the side.