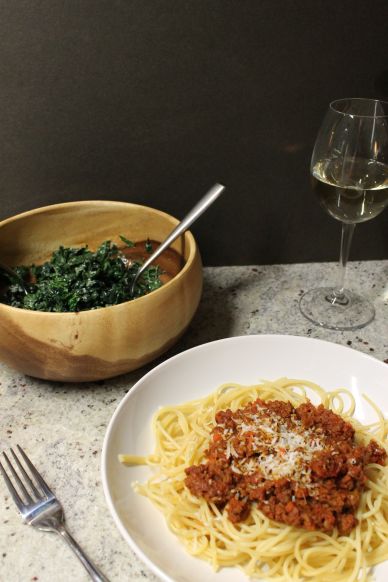 It was a cold, wet, miserable snowing/hailing/raining mess today, so it's time to talk about comfort carbs. Bolognese has always been something I thought best left to the pros. My friend Jenn taught me to order it at old school Italian restaurants, and that you know it's legit if there's a hint of nutmeg. I finally tried to make it at home, and it went exceptionally well. I used a recipe from Family Bites (Jan never steers me wrong) and simmered it low and slooooowwwww on a lazy weekend back in the Fall.
The thing about bolognese is that it's not supremely saucy, and I am traditionally someone who likes a LOT of sauce on my pasta. If that's what you're looking for, I would refer you to this Spaghetti & Meatballs recipe, or this Meat Sauce. Bolognese is more of a dry sauce (oxymoron?), but you can see in the picture above what I mean. I need to make this again, and I will definitely double the batch this time so I can freeze some for leftovers.
Classic Bolognese
Source: Family Bites 
Ingredients
1 tbsp olive oil
3 tbsp butter
1/2 cup chopped onion
2/3 cup chopped carrot
2/3 cup chopped celery
3/4 lb ground beef (as per Jan's instructions, this isn't time to use lean or extra-lean, so go for medium)
1 cup milk (I used 2%)
1/8 tsp nutmeg
1 cup white wine
1 1/2 cups crushed tomatoes
+ cooked pasta
+ grated parmesan for sprinkling
Directions
In a large dutch oven or saucepan, add the olive oil and butter and set over medium heat. When the butter is melted, add the onion and cook until softened, about 3-4 minutes. Add the carrot and celery and cook for an additional 3-4 minutes.
Add the beef and a big pinch of salt, breaking up the beef and stirring until cooked through.
Add the milk, cook until it has evaporated, stirring frequently, then stir in the nutmeg.
Add the wine, cook until it has evaporated, then add the tomatoes and stir.
Lower the heat until the sauce is barely bubbling, and cook for 3-5 hours, stirring occasionally. Serve over pasta with a sprinkle of parm.