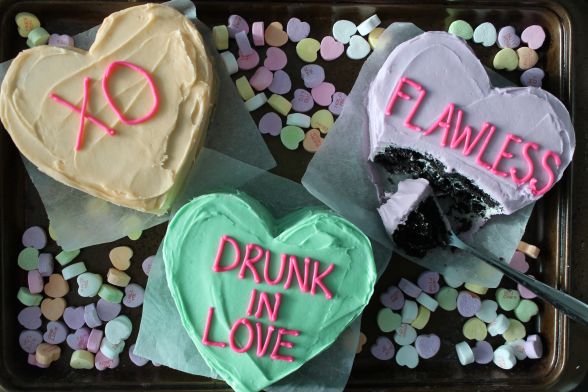 It's pretty rare that the holiday/recipe we're baking for from Baked Occasions actually falls on the Sunday we're posting, so first of all Happy Valentine's Day (if you believe in this sort of thing, which I do, basically as an excuse to bake cute things and eat chocolate). I was pretty excited to make these little cakes, because I have literally wanted to make these Conversation Heart Cookies from Annie's Eats for like six years.
While they look cute on the outside, the Baked Boys get a little subversive with this recipe, and the inside is a deep, dark Black Velvet Cake (for your cold, dead heart, haha). This was a great excuse to place an order from King Arthur Flour and finally get my hands on some black cocoa powder, although the recipe also calls for a huge squirt of black food colouring gel.
The boys pair this cake with a vanilla cream cheese icing, but my track record with cream cheese icings, especially for decorating cakes, is pretty horrible. I actually used another recipe, since it's the only one that ever works for me (the key is using cold cream cheese, not room temperature). It's so easy for cream cheese icing to lose it's structure, especially when you're stirring in food colouring, and I found even my tried and true recipe was soft by the end.
Finally, the best part of this recipe – choosing the phrases to pipe on the top of the cakes! Stephanie at I Am A Food Blog had some amazing ideas this week, and I figured Sheri had dibs on Netflix & Chill (since she works at Netflix!) so in the end, I asked myself WWBD (What Would Beyonce Do?) and went with three song titles from her last album.
One other baking note: I only got three 4″ cakes from this recipe. My pan was an inch shorter both in length and width than the recipe called for,  so I couldn't get 12 hearts cut out as directed. I used a small heart cookie cutter on the scraps and spread a bit of icing on top of each one.
You can find the recipe here!
More Baked Sunday Mornings here!