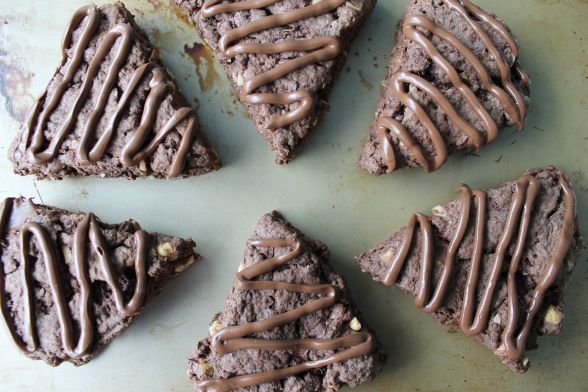 Today the rest of the BSM crew is making Chinese Five Spice Scones for Chinese New Year. I actually bought the five-spice powder and sesame seeds last week, but just wasn't feeling it. Five-spice powder is no joke: cinnamon, cloves, fennel, star anise and pepper. It's STRONG. I'm not the biggest fan of cloves, and I really don't like anise, so I just knew that I wasn't going to like them.
Instead, I made the FIRST EVER Baked Sunday Morning recipe: Nutella Scones! The gang made these back in November 2010, before I found them. They're a thick, hearty scone, full of toasted hazelnuts, with a thin layer of Nutella inside and a thick drizzle on the top. The scone itself isn't too sweet, so everything works well together.
You can find the recipe here!
More Baked Sunday Mornings here!