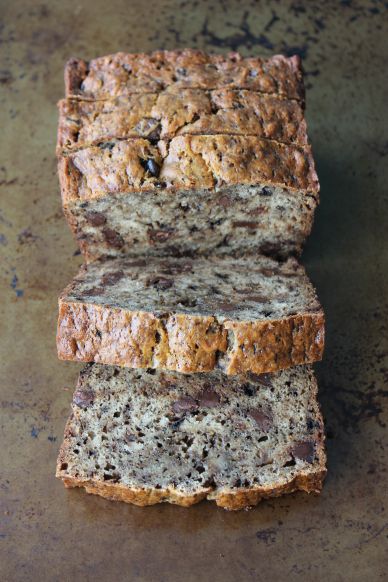 Deb on Smitten Kitchen has been talking a lot lately about making things just because you want to make them, "Find a recipe that sounds good to you and make it immediately. Don't put it in the queue; don't save it on that to-cook-one-day list, just dive in and dig in". While I embrace that concept in theory, in reality I'm over here making this banana bread I saw on Brunch at Bobby's almost A YEAR AGO when I was watching the Cooking Channel in Florida. I'm currently trying to clear out the gigantic bag of frozen bananas in my freezer, so this was a good first step.
I also just got some new espresso powder as my friends and I just placed a mega-order on King Arthur Flour*. I normally buy the one from Williams Sonoma, but I needed a re-up. The King Arthur espresso powder is way more potent, and with a full tablespoon in this loaf, it was super obvious. There's also an Espresso Cinnamon Butter that goes with it, but I wasn't super sold on that.  Kristine if you're reading this — I froze some slices for you for a snack for your flight to LA.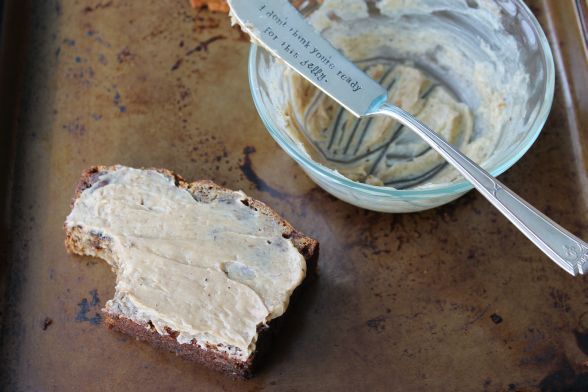 *Notes on ordering from King Arthur Flour: I placed the order last Tuesday, and it was here on Friday, which is pretty amazing. The shipping cost was $43.00 which is why I asked all my foodie friends to go in with me so we could split the cost. Not bad, but we got smoked on the exchange because the Canadian dollar is such crap right now. But I needed black cocoa powder for an upcoming Baked Sunday Morning project, so that was the motivation behind the order.
Espresso Chocolate Chip Banana Bread
Source: Brunch with Bobby
Ingredients
5 tbsp butter
1 tbsp espresso powder
4 medium bananas, peeled (super ripe)
1/2 cup sugar
2 tbsp brown sugar
1 egg
1 1/2 cups flour
1 tsp baking soda
1/4 tsp salt
1/2 cup chocolate chips
Directions
Preheat the oven to 350° and spray a loaf pan with non-stick spray.
Melt the butter in a saucepan over medium heat, and let it bubble and cook, swirling frequently until it starts to turn brown and smell delicious. Remove from heat and stir in espresso powder.
In a large bowl, add the bananas and mash with a fork. Stir in the sugar, brown sugar and egg until combined, then stir in the browned butter/espresso powder.
Add the flour, baking soda and salt and mix until just combined. Fold in the chocolate chips.
Add batter to the loaf pan and bake for about an hour, or until a skewer inserted in the middle of the loaf comes out clean. Let cool in pan for 20 minutes, then turn out onto a wire rack to cool completely.