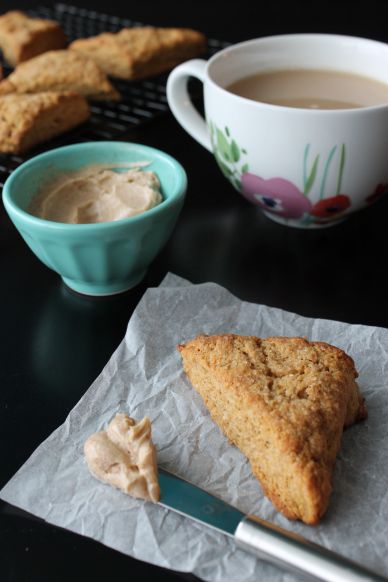 When Danielle and I went to Atlanta last year, one of the places we went for brunch was Highland Bakery. It was actually my least favourite meal of the weekend, but it was saved by one special thing. We bought little mini sweet potato scones from the bakery case up front to snack on while we waited for a table. They warmed them up for us too, so they were toasty, cinnamony and delicious. Kind of an odd thing to eat on a sweltering day in the South, so I mentally bookmarked them to recreate back here when it was cold.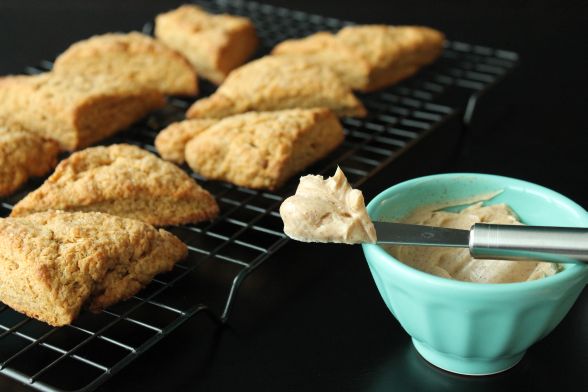 We're so used to seeing pumpkin scones as soon as September rolls around, but using sweet potato instead is a nice substitution. Sometimes I get a little 'canned pumpkin' fatigue by the end of October, so it was nice to switch it up a bit for these. I didn't have to search far for a recipe – Annie has one up on her blog that is totally perfect. The cinnamon maple butter is just the right touch to spread on a warm scone straight from the oven. I loved these and have to remember them for next Fall.
Sweet Potato Scones with Cinnamon Maple Butter
Source: Annie's Eats
Ingredients
Scones
1/2 cup (1 stick) butter, cold
3/4 cup mashed sweet potatoes
1/4 cup plain greek yogurt
2 cups whole wheat flour
1/2 cup brown sugar
2 tsp baking powder
1/4 tsp baking soda
1/2 tsp salt
1 tsp cinnamon
1/2 tsp ginger
pinch nutmeg
2 tbsp butter, melted
+ raw sugar for sprinkling
Cinnamon Maple Butter
1/4 cup (1/2 stick) butter, room temperature
1/4 tsp cinnamon
2 tsp maple syrup
pinch salt
Directions
Before you start, stick the butter in the freezer.
Preheat the oven to 425° and line a baking sheet with parchment paper.
In a small bowl, whisk together the mashed sweet potato and greek yogurt until combined. Set aside.
In a large bowl, whisk together the flour, brown sugar, baking powder, baking soda, salt, cinnamon, ginger and nutmeg. Take the butter out of the freezer and grate it into the flour mixture. Toss with a spatula to combine.
Add the sweet potato mixture to the flour mixture and stir gently with the spatula until a dough forms. Use your hands to knead the dough gently until it comes together in a ball. Turn out the dough onto a floured counter and shape into a rectangle (aim for 12x4x1, but do what you can).
I wanted my scones to be mini, so I cut the dough into squares and then into little triangles. Arrange them on the baking sheet.
Brush the scones with the melted butter and sprinkle with raw sugar. Bake for about 12-15 minutes, until they're nicely golden brown.
For the cinnamon maple butter, just stir the butter, cinnamon, maple syrup and salt together.