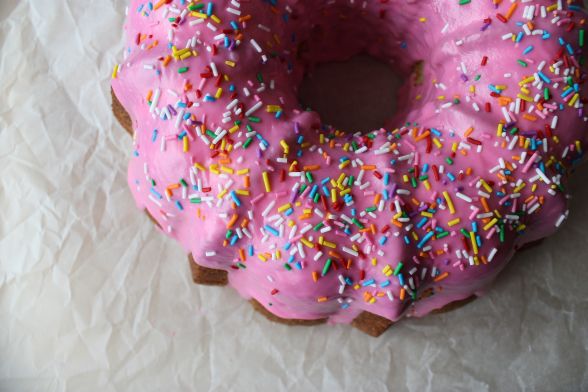 I was so excited, yet so scared for this week's assignment. Excited because this is a coconut bundt cake, with a chocolate/coconut/cream cheese filling and a white chocolate/coconut glaze, plus the whole thing is dressed up as the cutest doughnut ever in honour of Dolly Parton's birthday (she loves coconut desserts!).
Scared because my friend Danielle made this cake not once, not twice, but THREE TIMES with disastrous results. The first two times she made it, it stuck to the pan and the final time it turned out raw in the middle. She's a very experienced baker too, so I approached this recipe with a bit of caution.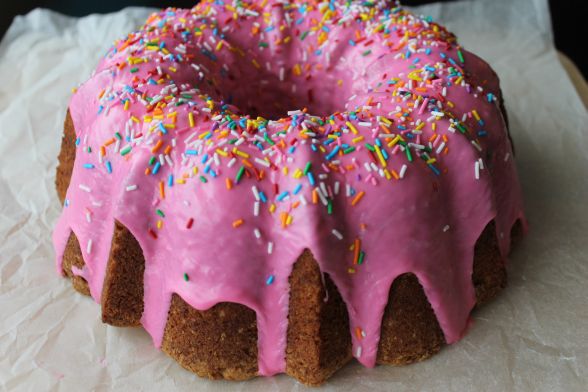 The Baked boys have a note in the recipe that when adding the filling, you have to make sure that it doesn't touch the sides of the pan. I thought this might have been what went wrong with Dani's, so I dug a little trench in the cake with a spoon, added the filling to a ziploc bag with a snipped corner, and piped it into the trench. The other thing I did was absolutely spray the hell out of the bundt pan with non-stick spray for extra insurance. One or both of those things worked, because my cake slid out easily in one piece.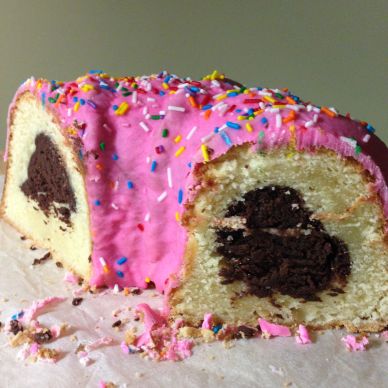 My friends and I ate Dolly's Doughnut as part of our Golden Globes feast last weekend and we all loved it! The cake is super hydrated from the coconut milk, and the chocolate filling is basically a cheesecake running through the middle. Kristine said that it looked like Homer Simpson's doughnut (lost on me because I never watch The Simpsons), and has already requested it for her sister's baby shower in March. Personally I couldn't stop eating this. This is now tied for first place with the Toffee Coffee Cake Surprise as my favourite recipe so far from Baked Occasions.
You can find the recipe here!
More Baked Sunday Mornings here!