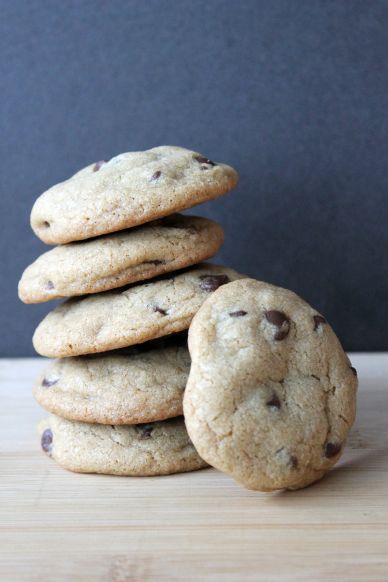 After almost six years of blogging, it's finally time to talk about one of the most important issues of our time: what makes a good Chocolate Chip Cookie?
Before we get into that though, it must be stated that a warm, homemade Chocolate Chip Cookie is 100% one of the simple joys in my life. I would choose that over pretty much any other dessert offered to me. It's also the first thing I can remember baking by myself as a kid, so they're special to me because of that. Last month a few of my co-workers were asking me for a Chocolate Chip Cookie recipe, and I was kind of shocked when I realized that my favourite one isn't even on the blog!
Even though this isn't my childhood recipe (my Mom still makes those ones and they're delicious, but turn out a bit thin), it's one I've been making for years. It's from the baking goddess Anna Olson, and it's the best — to me. The thing is, the qualities that make these my favourite, might not be the ones that make it good for you. These are my requirements of an outstanding Chocolate Chip Cookie: chewy (for the love of god, not crispy or cakey), lots of semi-sweet chocolate (not milk chocolate) and NO NUTS.
There are no crazy baking notes for this recipe, as it's pretty straightforward. Anna includes a bit of cornstarch in her cookies to keep them chewy, which is genius. The only important thing to mention is the baking time. Pull these out after 8-10 minutes. They'll still look a bit doughy, but that's what you want. They'll continue to cook on the baking sheet as they cool, and that'll leave you with the perfect chewy cookie.
Now, there are 57382614 recipes for Chocolate Chip Cookies that I've been intrigued by over the last few years.  I haven't made any of them, because I always had this recipe in my mind as my favourite, but I've decided that 2016 is the year of the Chocolate Chip Cookie on Planet Byn. A few I want to try:
Cook's Illustrated version with browned butter
The New York Times recipe with bread flour, chocolate feves, sea salt, and a 24-72 hour resting period
Levain Bakery copycat cookies (my co-worker brought me these from NYC last year and they're transcendent)
If you have a favourite recipe you think I should try, let me know. I think we're also going to get some guest bloggers up in here to talk about their favourites. It's going to be a sweet year!
Chocolate Chip Cookies
Source: Anna Olson
Ingredients
3/4 cup (1 1/2 sticks) butter, room temperature
1 cup brown sugar
1/4 cup sugar
1 egg
2 tsp vanilla
2 cups flour
2 tsp cornstarch
1 tsp baking soda
1/2 tsp salt
1 cup semi-sweet chocolate chips
Directions
Preheat oven to 350° and line two cookie sheets with parchment paper.
In a large bowl, cream together butter, brown sugar and sugar until light and fluffy. Add the egg and vanilla and mix until combined.
Add the flour, cornstarch, baking soda and salt and stir in until combined. Stir in the chocolate chips.
Scoop heaping tablespoons onto the cookie sheets and leave as is for a rustic look, or roll into balls with your hands for a smoother final appearance.
Bake 8-10 minutes.