Someone asked me last week how many cookies I make in December. I replied that I usually make about 10 different types of cookies, but she came back at me wanting to know the total volume. I guessed about two dozen of each type, so somewhere in the neighbourhood of 250 cookies. The look of shock on her face made me question my priorities in life for a split second, but then I described my annual Champagne & Cookies party and reaffirmed my belief that there's really no other way I'd rather spend my December.
I was feeling pretty confident after 2014's C&C, where I was totally happy with 10/10 of my selections, so I decided to mix it up just a little bit this year. Here's how it went:
1. Gingerbread Sandwich Cookies + 2. Whipped Shortbread + 3. Pecan Pie Thumbprints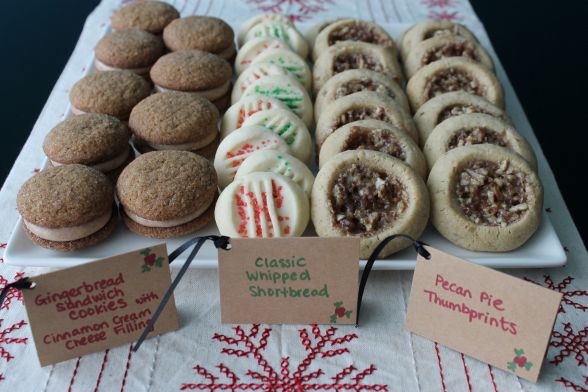 For some unknown reason, I had issues with these gingerbread cookies this year. Well, I do know the reason, which is that I went against my baker's instinct. For the first batch, I knew the dough was too soft, but went ahead anyway, and the result was that the cookies spread so much and were too thin. So note to self for next year to chill the dough balls for about half an hour before baking. For the second batch, I think I baked the cookies a couple minutes too long. They weren't as chewy as I remembered.
I declared last year that I was done with the Soft Frosted Sugar Cookies, as pretty as they might be. Instead this year I made these Whipped Shortbread, because they were on our Baked Sunday Morning Schedule, and I knew they'd be delicious. They are absolutely melt-in-your-mouth amazing.
And now, the bane of my existence, the thumbprint cookie. I just don't have luck with them, EVER. Danielle was raving about these Pecan Pie Thumbprints last year though, so I decided to forgo my usual Maple Pecan Pie Square. The cookie part is a cream cheese dough with ground pecans mixed in, filled with pecan pie filling. So good, but the problem is that the cookies spread like crazy when they bake, and if you put too much filling in, they overflow. Dani has subsequently confirmed for me that even if you freeze the cookies overnight before baking, it still doesn't solve the spreading problem. So we'll file these in the ugly but delicious category. I'll be going back to my squares next year.
4. Pretzel M&M Cookies + 5. Nutella & Caramilk Stuffed Double Chocolate Chip Cookies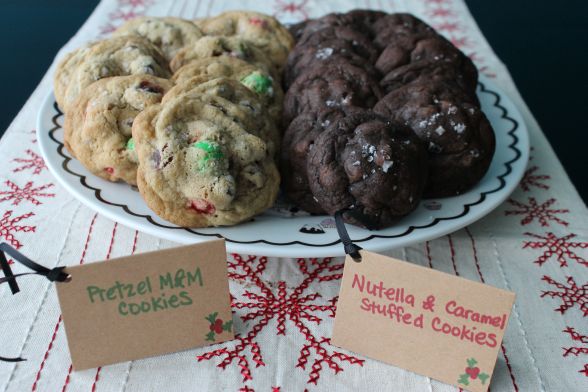 I almost had a heart attack in the summer when I couldn't find Pretzel M&Ms at my regular grocery store, and then also had no luck at the Wal-Mart or Superstore near my house. Luckily I found some in another Superstore in September and bought like six bags in anticipation of low attendance at Champagne & Cookies if these were not on the menu. They're the undisputed champion of the night, for as long as we can still get these suckers in Canada.
Nutella & Caramilk stuffed cookies also made another appearance for the third year, although I ran out of Caramilk squares halfway through, so some of them just had Nutella inside. I love these so much. I feel like I want to serve them warm next year to up the gooey/oozy factor.
6. Chocolate Mint Cookie Squares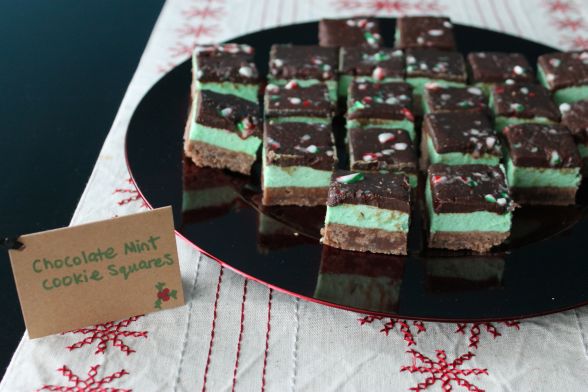 Listen, this mint slot is getting retired for next year, mark my words. I always feel obligated to have a chocolate/mint treat, and I am almost always disappointed with the way they turn out. This recipe was from a random holiday baking magazine that my co-worker brought to work to show me, and my issues with it were as follows: chocolate shortbread base was neither chocolately enough, nor shortbready enough, the mint filling was WAY too thick, the ganache was WAY too soft, and the candy cane pieces you sprinkle on the top started to sort of liquefy/melt. All that said, this was my toughest critic's favourite (that would be my 4 year old friend Mila), so at least they tasted good!
7. Campfire Squares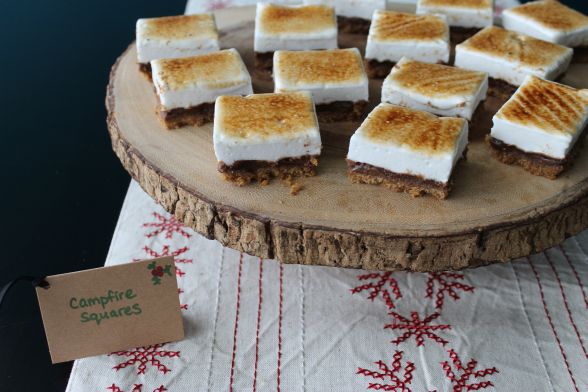 This summer I finally bought a kitchen torch, which is all you really need to know about why I chose these squares for this year's party. The recipe for Campfire Squares is brought to us by the lovely Rosie from Butter Baked Goods in Vancouver, and is pretty similar to these S'mores Fudge Squares, except with a layer of actual marshmallow on top, instead of fluff. These were my favourite treat of the night, and I didn't burn down my home, so that's a win-win.
8. Champagne Cupcakes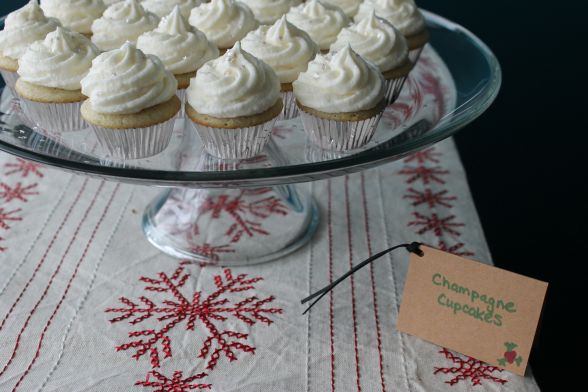 This recipe comes from the new Butter Celebrates book, and I thought that OF COURSE I should have Champagne Cupcakes at Champagne & Cookies! There's champagne in the cupcake base, in the syrup you brush onto them, plus in the buttercream. It made the icing a little grainy, and hard to pipe on, but I thought these were still cute, especially with the little silver stars on top. But the problem is: NO ONE ATE THEM! Barely touched at the party. So that's a lesson learned for me. Give the people what they want, which is MORE COOKIES.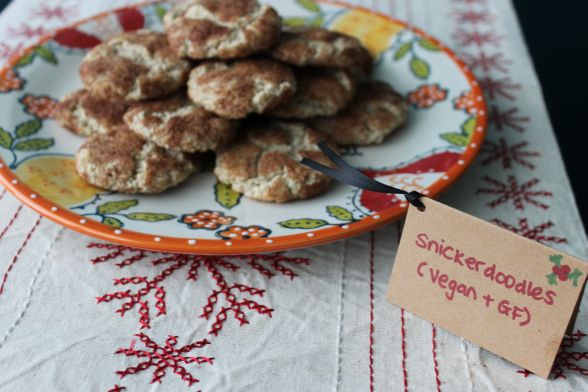 Snickerdoodles are a pretty traditional Christmas Cookie, at least at my Mom's house. She always made them for my brother, but they were never my fave. Turns out this vegan and gluten-free version is way better. Coconut oil keeps them super chewy, and the oat flour/almond flour combo makes then nice and nutty. My only note for next year is to double the batch.
10. Peanut Butter Pretzel Truffles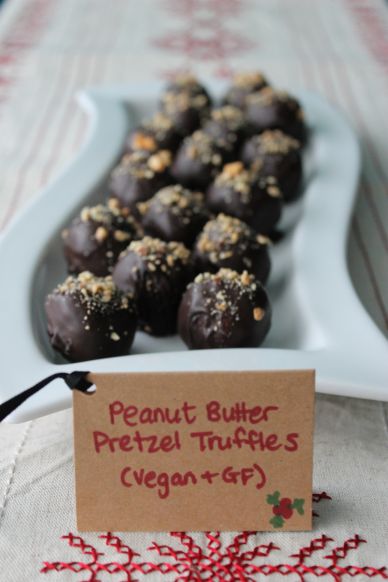 I made these earlier in the year for Aoife's bridal shower, and knew I wanted to make them for C&C. These are also vegan and gluten-free, and there's a place by my office now where you can buy little bags of GF pretzels, so this is perfect. I found then a little on the dry side though, so next time I wouldn't add back all of the nut/pretzel mixture.
Overall, I was happy with the majority of my choices, but I think next year I might revamp the menu completely. We'll see what my frame of mind is next December. One thing's for sure though: NO THUMBPRINTS!!!
Hope you had a great Christmas!