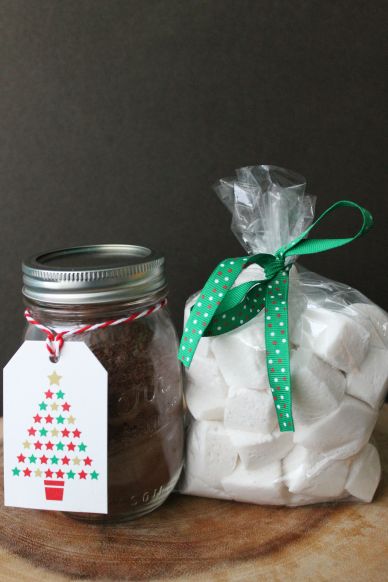 Last week my friend from work had a couple of us over to her house for dinner, and true to form, I spent like a week trying to decide what to bake to bring over. I just find it so lovely when people open up their home to you and welcome you in. I feel as though this doesn't happen nearly often enough, and it makes me want to host a dinner party every week in 2016. It gives me all the warm and fuzzy feelings.
Since I get so wrapped up in my cookie domination plan during this most festive time of year, I decided to go in a totally different direction and make a batch of homemade hot chocolate mix and marshmallows to bring along. To be honest, I was trying to make sure her kids would like me, and I figured this would be a hit (Spoiler Alert: I was right, they loved it). Let me note for the record that this idea was scooped from Nicole who has been saying for YEARS that she wanted to make up little bags of homemade hot chocolate mix to give out to her friends at Christmastime.
This recipe is from Smitten Kitchen, and takes like 5 minutes to measure everything out and mix up in the food processor. It's only 6 things: chocolate, cocoa powder, sugar, cornstarch, vanilla, and a pinch of salt. It tastes a trillion times better than anything coming out of a paper packet. I packed it up in a cute mason jar, added a tag I brought back from London, and I was in business. The marshmallows are this recipe from the Joy the Baker cookbook and I totally forgot how easy they are. I'm going to make a few more of these duos for my team at work for Christmas. Annie's got a bunch of marshmallow variations to try, and Deb includes some options for the hot chocolate on her post (link below). Are we in the Christmas spirit yet?
Homemade Hot Chocolate Mix
Source: Smitten Kitchen
Ingredients
3 oz dark chocolate (chunks or chips)
1/2 cup sugar
1/2 cup cocoa powder
1 tbsp cornstarch
1/4 tsp vanilla
1/8 tsp (big pinch) salt
Directions
Add the chocolate to the food processor and process until finely chopped. Add the rest of the ingredients and pulse until combined.
To make one mug of hot chocolate: whisk together 1 cup of milk with 3 tbsp of the hot chocolate mix in a small saucepan. Heat over medium heat until hot. Top with homemade marshmallows!