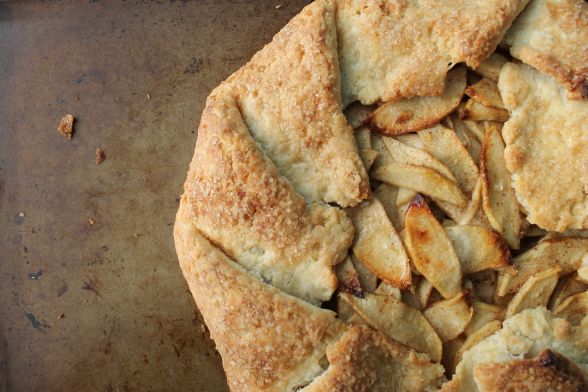 Last December I made a bold declaration on this here blog of mine: I was done with apple pie. I had finally had enough after making Saveur magazine's Salted Caramel Apple Pie for Christmas, and was ready to put that out into the world. I often have trouble with pie in general, mostly because I can never get my crust to stay crimped properly after baking, but am willing to overlook that for delicious fillings like peach and blueberry. But somehow apple was just never for me.
My track record with galettes has been much better. I think I first remember seeing them on Sugar with Anna Olson and the Barefoot Contessa.  I loved how Ina would tell me that they're supposed to be rustic looking, and not to worry if they didn't look perfect. And while I can think of at least four savoury galettes in the Planet Byn archives that I absolutely love, I haven't made a sweet one in over 10 years (it leaked all over the bottom of my Mom's oven, I don't want to talk about it).
Which brings us to today. The Baked boys are bringing this Brown Butter Apple Galette to the table for Thanksgiving, and I thought I'd give it a try. Note that the original recipe also includes cranberries, but I didn't feel like buying a whole package for only a handful. I love the crust recipe (I used all butter instead of a butter/shortening combo), which mixes up quickly and easily in the food processor, and rolls out like a dream. I love that there's no stress over fitting the crust into a pie plate or crimping the edges.
The boys include the curious step of sprinkling three tablespoons of panko bread crumbs over the galette before adding the filling. The rationale behind this is that the crumbs absorb some of the juices from the fruit and help keep the crust more crispy overall. Genius. You can take the time to arrange the apple slices in a pretty pattern, but I just poured mine on in a heap (you know, keeping with the rustic-ness of it all). The filling is a mixture of sliced apples, brown sugar, cinnamon and browned butter, which is heaven on earth that you need to experience. Once you fold the pastry up and around the filling, you brush it with even more browned butter, and give it a sprinkle with turbinado sugar.
As I'm sure you can tell by my loving description of the steps above, I freaking LOVED this galette. The crust is super flaky and buttery, the filling is tart and sweet, and I'm just all about it! I think it has something to do with the air getting all around the crust and making it so crispy. If you think about a pie, you really only get that with a bit of crust at the end. Between the Rhubarb Hand Pies and Peach Dumplings I made this summer, and now this galette, I may be ready to get rid of my pie plates!
You can find the recipe here!
More Baked Sunday Mornings here!