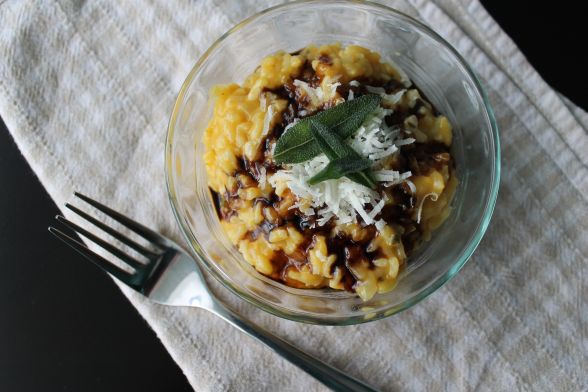 I made risotto for the first time back in 2011, and was so excited about it that I waited almost five years to make it again. That's just what happens in my kitchen though. There's always something new to make, so I forget about the things I made that I loved. Risotto also has such a bad rep as being time consuming, but since it's a one-pot dish, I feel like the time you spend stirring is easily made up by only having one thing to wash.
Anyway, the last time I made risotto, it was a simple recipe from my friend Gwendolyn, with some diced roasted butternut squash folded in at the end. I actually remade that recipe a few weeks ago, and it was just as good as I remember. This recipe has pretty much the same foundation (arborio rice, onions, garlic, broth), but instead has a whole cup of puréed butternut squash stirred in, bumping up the squashiness factor, and turning the whole thing bright orange.
The toppings here are optional, but I was off work the day I made this, so I had time to spend on them. The balsamic drizzle is just balsamic vinegar and a spoonful of brown sugar that is simmered until syrupy. I was a little scared of the fried sage; first of all the leaves are furry, and second of all, who wants a whole mouthful of sage? But it turns out that when you fry it, it gets all crispy (duh), so the furriness is gone, and the flavour mellows out too, so even if you eat a whole leaf (which I did to test it out), it's not overwhelming.
I definitely won't wait another five years to make risotto, and I think there's a wild mushroom risotto in my not-too-distant future.
Butternut Squash Risotto with Balsamic Drizzle & Fried Sage
Source: Love & Olive Oil (with a few substitutions)
Ingredients
2 tbsp olive oil
1 small onion, finely chopped
2 cloves garlic, minced or grated with a microplane
1 tbsp chopped fresh sage
1 cup arborio rice
1/4 white wine (if you don't have wine around, just use water or chicken stock)
4 cups chicken stock
1 cup butternut squash purée
1 tbsp butter
1/4 cup grated parmesan
+ balsamic syrup (1/2 cup balsamic vinegar + 1/2 tbsp brown sugar, simmered until syrupy)
+ extra parm
+ fried sage leaves (fresh sage leaves shallow fried in olive oil over medium heat for 30 seconds)
Directions
In a dutch oven, heat the olive oil over medium heat. Add the onions, and saute until softened, 5 minutes or so. Add the garlic and fresh sage and saute for a minute. Add the rice and stir for a minute or two. While you're doing this, add 2 cups of the chicken stock to a microwave safe glass measuring cup and heat for 2 minutes. Set aside.
Add the wine (or water or stock) to the pan and stir until absorbed.
Add the hot chicken stock a 1/2 cup at a time to the pan, stirring until absorbed before you add more. The whole process will take 20 minutes or so. Don't rush.
After all the stock has been added, stir in the butternut squash. Season the whole thing with salt and pepper to taste.
Add the butter and cheese and stir until melted. Taste and add more salt if needed.
Divide into bowls and top with balsamic drizzle, more parm and sage leaves if you made them.