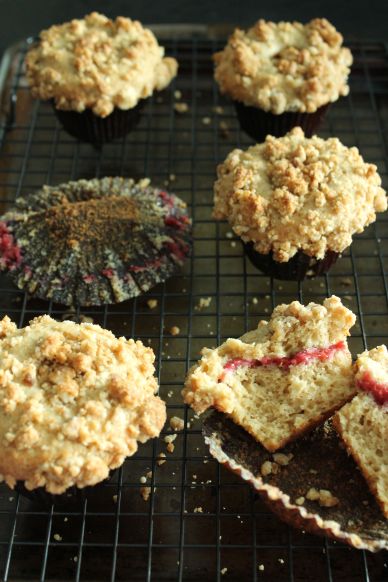 I'm a little behind, as the Baked Sunday Morning crew made these muffins two weeks ago. Two things though: a) that was Thanksgiving up here in Canada and I was baked out b) there was no way I was tackling today's recipe.
Not that I have anything against Baked Alaska, it's just a fairly long recipe with lots of different components, and it's not something easy to pack up and bring to work. Perfect chance instead to get acquainted with these muffins.
I am a HUGE fan of PB&J, so I knew these muffins were meant for me. The muffin itself is fluffy with a nice peanut butter flavour, but it's not too sweet. You layer in a dollop of jam, and top with a crunchy peanut streusel. This is hitting all my trigger words. Currently trying not to eat them all.
One funny thing though. The Baked boys make these with grape jelly, which, no. I cannot endorse this version of PB&J. I used my homemade skillet jams that I made in the summer: strawberry rhubarb, raspberry and strawberry vanilla bean. They are all so good. Just use what ever you like the best.
You can find the recipe here!
More Baked Sunday Mornings here!