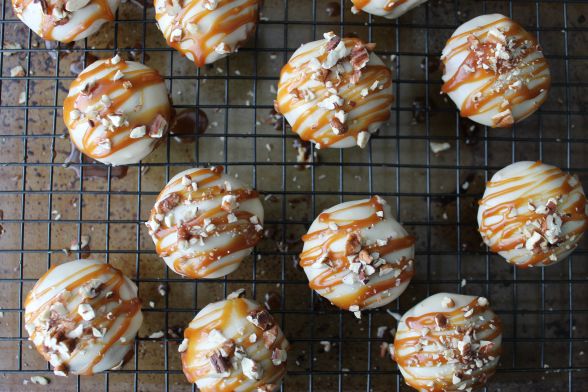 Hooray! It's pumpkin time! I feel like I showed excellent restraint in waiting until October to crack open my first can of pumpkin. Last year I was away for a lot of October, so I didn't really make a dent into my Pumpkin Pinterest board, so I'm making up for lost time now.
The first thing I made was actually this Nutella-Swirled Pumpkin Loaf, which I sold at a Bake Sale at work to raise money for a charity ride. It was alright, but I should have trusted my baking instinct on the cloves (way too much). I then moved on to these Mini Pumpkin Muffins which I've only had bookmarked for about three years.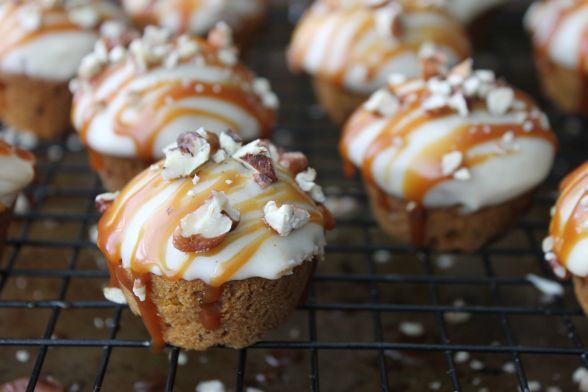 The muffin part is nicely fluffy and hydrated, but not too sweet. This is a good thing, because you then proceed to dunk them in a brown butter glaze, drizzle with salted caramel and sprinkle with toasted pecans. A nice little Saturday afternoon baking project, which I then brought to dinner to share with my friends.
Mini Pumpkin Muffins with Brown Butter Glaze, Salted Caramel & Pecans
Source: Take a Megabite
Ingredients
Muffins
1 cup flour
1/2 tsp baking soda
1 1/2 tsp cinnamon
1 tsp ginger
dash nutmeg
dash cloves
1/4 tsp salt
1 cup pumpkin
1/2 cup dark brown sugar
1 egg
1/4 vegetable oil
1 tsp vanilla
Brown Butter Glaze
3 tbsp butter
1 cup icing sugar
1/2 tsp vanilla
3-4 tbsp cream or milk
+ toasted chopped pecans
Directions
Preheat the oven to 325° and spray a mini muffin tin with non-stick spray.
In a large bowl, whisk together the flour, baking soda, cinnamon, ginger, nutmeg, cloves and salt.
In a medium bowl, whisk together the pumpkin, brown sugar, egg, oil and vanilla.
Add the wet mixture to the dry, and fold together until just combined. Scoop into mini muffin tin and bake for about 10-12 minutes or until a toothpick inserted comes out clean. Let cool for 5 minutes before removing from pan and placing muffins on a wire rack to cool completely.
To make the glaze, add the butter to a small saucepan and set over medium heat. Cook until the butter melts and starts to brown, then remove from heat and pour into a medium bowl. Whisk in the icing sugar, vanilla and cream. Dunk muffin tops into the glaze and let set for a few minutes. Drizzle with salted caramel and sprinkle with pecans.