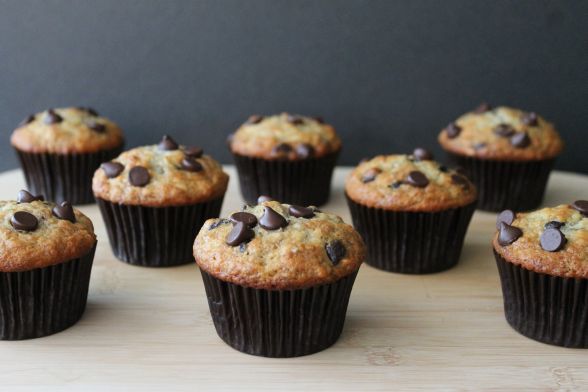 In the 5 years I've been blogging, I can't even count the number of times I've made these muffins. They are the epitome of comfort to me. My Mom made these all the time for us when we were growing up and I make them all the time now. The recipe comes from a cookbook called "Muffins Mania", written in 1982 by "two ladies from Kitchener" according to my Mom. Legit!
You can use up your most mangled bananas and I promise they'll be good. I'm notorious for finding black bananas in my work tote on Sunday night that have been there all weekend. Instead of throwing them out, I add them to a big plastic bag and keep a running stash in my freezer. When you need to use them, just toss them in the microwave, peel and all, and defrost for 3-4 minutes. Snip an end off with kitchen scissors and squeeze out the banana. You're now less than an hour away from these muffins.
The other fantastic part of this recipe is you only need one bowl and a fork to mix them up, and the recipe makes exactly 12 perfect muffins. They're so adaptable too, you can throw anything in them and they'll be amazing: peanut butter chips, white chocolate chips, any type of nuts, toffee bits, espresso powder, bourbon, even swirls of Nutella or peanut butter.
Previous Favourites
Banana Muffins
Source: Muffins Mania
Ingredients
3 bananas
3/4 cup sugar
1/4 cup butter, melted
1 egg
1 1/2 cups flour
1 tsp baking powder
1 tsp baking soda
1/2 tsp salt
+ anything you want to add in (my favourite addition is 1/2 cup chocolate chips)
Directions
Preheat oven to 375° and add liners to 12 muffin tins.
In a large bowl, mash the bananas with a fork. Add the sugar, butter and egg and stir with the fork to combine.
Add the flour, baking powder and salt and stir in until just blended.
Stir in any add-ins you have.
Spoon the batter into the muffin liners and bake for 20 minutes, until a toothpick inserted comes out clean.