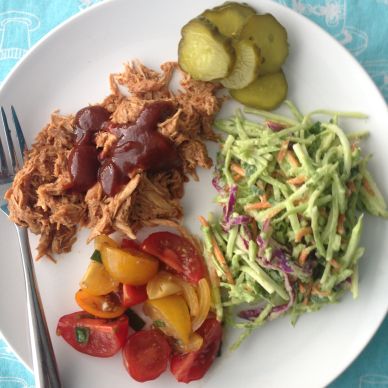 Mindy Kaling has said on Twitter that September should really be considered a Summer month, and I couldn't agree more. It was freaking hot this month, and there was no way I was busting out the pumpkin. Here's what was happening in the last month of Summer:
Nicole came over for dinner and I made this Corn & Basil Tart from the archives (with zucchini added this time). She brought a tomato/burrata salad, I roasted some mini red potatoes, and we ate those epic Peach Dumplings for dessert.
I made two snack recipes from my blog crush Kiwi & Bean and loved them both: Morning Glory Muffins & Chocolate Sunflower Bites.
Earlier in the Summer I went to the patio behind El Caballito, but finally ate in the restaurant proper (twice actually). Loving the beef brisket taco the most!
Gwendolyn was in town and unfortunately we had a disappointing brunch at the same restaurant we went to when she was here at the beginning of the year. Nothing a quick trip to Momofuku Milk Bar for some cookies couldn't fix.
Made a couple dinners from the Planet Byn archives: Mushroom Stroganoff, Turkey & Feta Stuffed Peppers, Peanut Satay Dragon Bowls and Thai Peanut Quinoa Bowls (guess I was pretty into peanut sauce this month).
Last weekend I went to my friend from work's wedding, and it was a 10-course Chinese banquet. There were a few things I was scared to try (shark's fin soup, abalone) but I think I did okay. I've come a long way since my brother and sister-in-law's Chinese wedding banquet, where I wouldn't even try ANY seafood, and at this wedding I ate crab, scallops and lobster. Seafood will never be a priority in my life, but it's nice to know I don't embarrass myself anymore at events like this.
Other non-foodie things I was obsessed with this month:
Mindy's new book Why Not Me? is out, and I read it in a weekend. Everyone knows how much I love her, so it's not really news that I totally loved this book. Also devoured Jennifer Weiner's Who Do You Love; highly recommend.
I went to see Janet Jackson in concert and had literally been waiting for that moment since I got the Rhythm Nation cassette tape for Christmas in 1989 to listen to on my pink ghetto blaster. It was everything I dreamed of and MORE!
TIFF rolled into town, and I went to see a bunch of movies this year. My favourite was The Dressmaker, an Australian film starring Kate Winslet. It was funny, dark and quirky, and that's kind of the fun of TIFF for me, seeing weird little movies with actors that I love, that I normally wouldn't get to see otherwise.
Flashback!