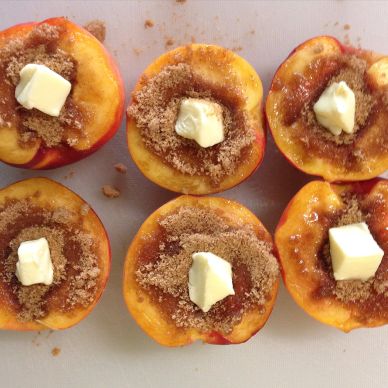 There's really only a certain section of society that understands the importance of peach season. The citizens of Winona for one (Hi Alexis!) and my food blogging friends. It's the most wonderful time of the year. I only had one item on my peach to-do list for 2015: dumplings or bust.
Like most great successes around here, Danielle made this first last summer, raved about it, and then I had to wait a whole year to make it.  The recipe comes from The Smitten Kitchen Cookbook, where Deb talks about updating a classic apple dessert with peaches. I've never had an apple dumpling, but let me break down for you what's happening here.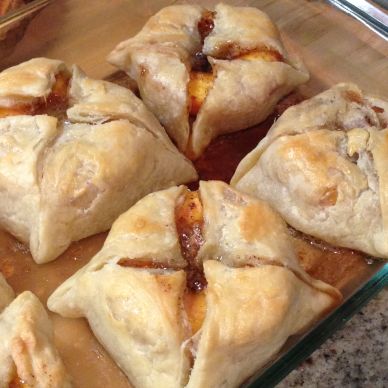 First, you take peach halves (pit removed, obvi) and stuff them with brown sugar and a small cube of butter. You then lovingly wrap those peach halves in a square of pie dough, and bake them in the oven until golden brown, flaky and amazing. I wasn't sure if these would go best with the accompanying bourbon hard sauce (butter, icing sugar, bourbon) or vanilla ice cream. My dinner guest for the evening, Nicole, put a prompt end to that debate: BOTH.
This is my new favourite peach dessert of all time. Amazing things happen when the sauce/ice cream starts to melt, plus the brown sugar starts oozing out of the peach. As I texted Danielle, why would I ever make peach pie again?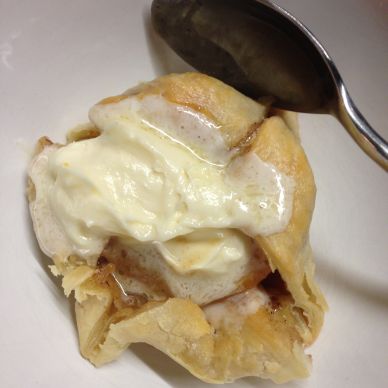 Peach Dumplings with Bourbon Hard Sauce
Source: The Smitten Kitchen Cookbook
Yield: 6 dumplings
Ingredients
3 peaches, halved and pitted
brown sugar, mixed with cinnamon and a dash of nutmeg
1 tbsp butter, cold, cut cubes
+ pastry dough (I used a half batch of Deb's all-butter really flaky pie dough from her book, and it was enough for six small peach halves. If your peaches are on the big side, or you want to make more, definitely use the full recipe)
+ egg wash (1 egg beaten with 1 tsp water)
+ vanilla ice cream or bourbon hard sauce (1/2 stick of butter mixed with 3/4 cup icing sugar and 1 tbsp bourbon) for serving
Directions
Using a small spoon, scoop the brown sugar mixture into the centre of each peach and pack it in. Place a cube of butter on top.
Roll out the pie dough and cut into squares (4.5″ squares were the right size for me for my size of peaches, this took a little trial and error).
Place a peach half on a square of dough, and bring up all the corners to meet over top, pinching the seams of the dough together with your fingers. Repeat for all peaches.
Place peaches in a 9×13″ glass baking dish that has been buttered or sprayed with non-stick spray. Chill for 30 minutes (if you can wait), then brush with egg wash and bake 30-40 minutes at 375 until golden brown.
Serve with a scoop of ice cream or hard sauce (or both!) melting over top.