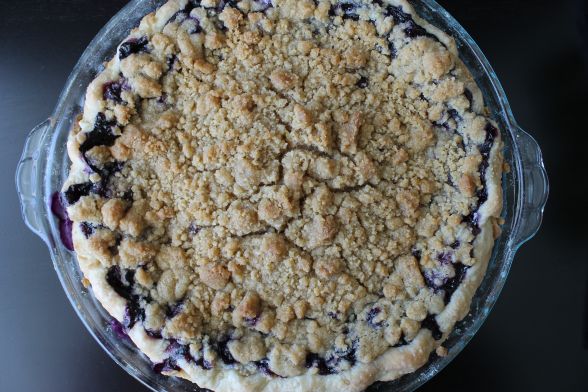 I've been operating on a two-month delay over here when it comes to summer fruit, but luckily just caught the end of blueberry season a couple of weeks ago. I made that amazing Blueberry Buckle, but was dreaming of this Blueberry Custard Pie; a mash-up of the Blueberry Pie I made two summers ago, and the Custard Pie I made last summer.
So this is awesome, I mean, obviously. First of all, blueberries are the most low maintenance of summer fruit. No chopping, coring, peeling, or pitting required. If you have a pie dough prepped and ready to roll out, the filling and crumble topping take no time at all. I have this weird thing in my mind where pies are so time consuming to prepare, but I made this in about an hour on a Sunday morning (not including baking time). I should do this more often.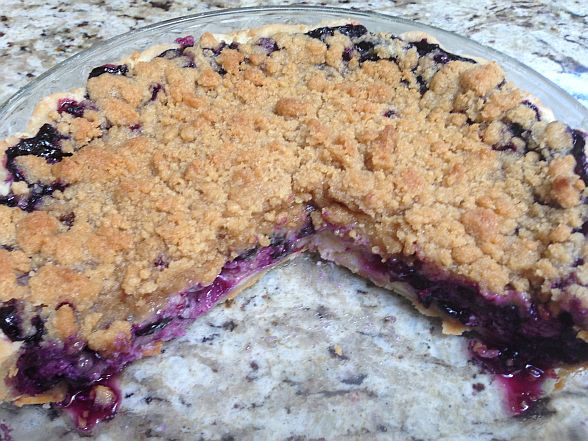 Many, many pre-blogging years ago I made a Peaches & Cream pie with CANNED PEACHES that my Mom still talks about, so next summer I can guarantee you'll be seeing a Peach Custard Pie up in here. I did something else with peaches last week that you'll see soon.
Blueberry Custard Pie
Source: Crust from Smitten Kitchen, Filling from Mel's Kitchen Cafe, Topping from Martha
Ingredients
Crust
1 1/4 cups flour
1/2 tbsp sugar
1/2 tsp salt
1/2 cup (1 stick) butter, cold, cubed
1/2 cup ice water
Filling
1 cup sour cream
3/4 cup sugar
2 tbsp flour
2 tsp vanilla
1/4 tsp salt
3 cups blueberries, rinsed and dried well with paper towels
Topping
3/4 cup flour
1/3 cup brown sugar
3 tbsp sugar
pinch salt
6 tbsp butter, cold, cubed
Directions
For crust, add the flour, sugar and salt to a big bowl, and whisk together. Add the butter, and use a pastry cutter to cut it in, until the butter is the size of peas and the mixture is crumbly. Start by adding 1/4 cup of cold water, and stir together with a spatula until the dough starts to come together. Add more ice water a tbsp at a time, until all the floury bits are incorporated. Knead the dough very briefly with your hands until it all comes together, then shape into a disc and wrap in plastic wrap. Stick it in the fridge to chill for about an hour.
For filling, whisk together sour cream, sugar, flour, vanilla and salt. Stir in the blueberries. Chill until you need it.
For topping, stir together the flour, brown sugar, sugar and salt, then use a pastry cutter to cut in the butter. I just get my (clean) hands in there at this point and incorporate the butter until mixture is nice and crumbly. Stick in the fridge.
Preheat the oven to 375°. Roll out the dough on a well-floured counter, then gently add to your pie plate, trim the edges and crimp them. Pour in the blueberry filling. Bake for 25 minutes, remove from the oven, sprinkle all of the crumble topping over top, and bake for another 20-30 minutes until the topping is golden brown.
Let pie cool for a few hours before slicing. It's delicious warm, cold or at room temperature.