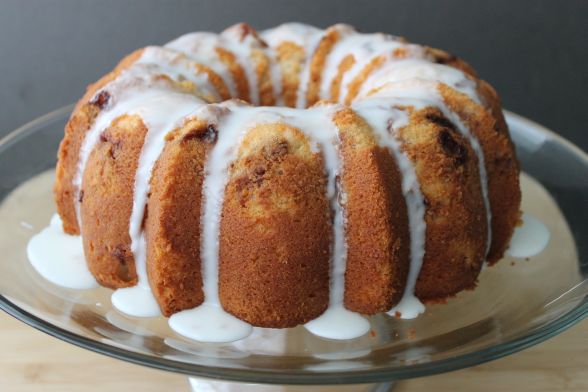 You may remember that when I left my old job at the beginning of last summer, my former co-workers sent me off with a two week farewell treat tour. They took turns either baking something or buying treats to bring in, as a thank you for all the goodies I brought to them over the two years I worked there.
This cake was the very first treat of that tour, made with love by my friend Janelle. I've been waiting an entire year to make it. Grocery store strawberries just weren't going to cut if for this beautiful bundt! I wanted fresh, local, sweet Ontario strawberries, and was willing to wait this long.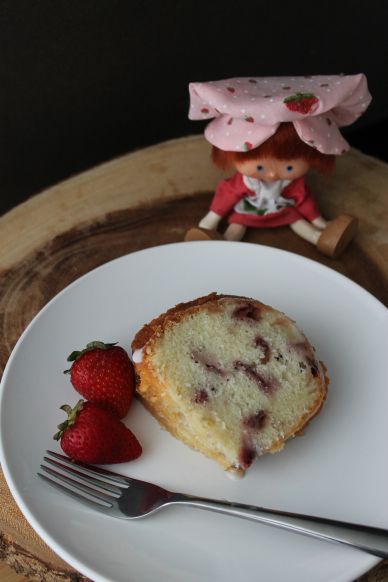 I'm so glad I did because this cake is a winner. It's SUPER hydrated because it has a whole cup of greek yogurt, and it's one of those cakes that tastes better the longer it sits. I love that.
I shared this with my new co-workers and it was gone in record time. I feel like this is so adaptable to any summer fruit you want to add in. I think a peach version would be particularly delicious, working that whole peaches & cream angle.
Fresh Strawberry Yogurt Cake
Source: A Spicy Perspective
Ingredients
2 1/4 cups flour
1/2 tsp baking soda
1/2 tsp salt
zest from 1 lemon
1 cup (2 sticks) butter, room temperature
2 cups sugar
3 eggs
1 tsp lemon juice
1 cup greek yogurt – plain or vanilla
12oz strawberries, diced, tossed with 1/4 cup flour
+ 1 cup icing sugar whisked with 2 tbsp lemon juice
Directions
Preheat oven to 375° and spray a bundt pan with non-stick spray.
In a small bowl, whisk together the flour, baking soda, salt and lemon zest.
In a large bowl, mix together the butter and sugar until light and fluffy, about 3 minutes. Add the eggs and lemon juice and mix again until well combined.
Alternately mix in the flour mixture (3 additions) and yogurt (2 additions), beginning and ending with the flour.
Add the strawberries and gently fold in. Pour batter into bundt pan and smooth it into an even layer.
Bake for 60 minutes, until a skewer inserted into cake comes out clean.
Let cool for 30 minutes in the pan then invert onto a cooling rack to cool completely. Drizzle glaze overtop.