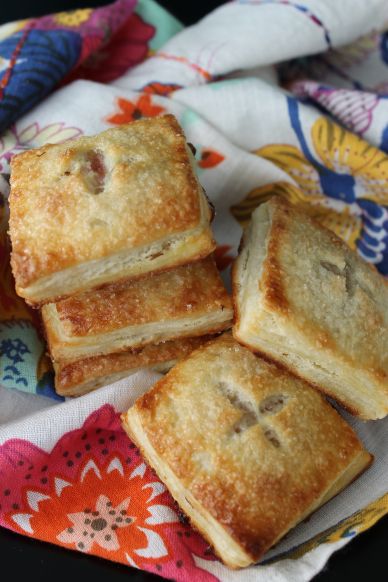 Sometimes I have a moment when I see a new recipe and I'm like omgineedtomakethisrightaway and I can't stop thinking about it. This becomes a problem when dealing with seasonal fruit, and rhubarb in particular, because if you don't drop everything and make it right away, you'll have to wait like a year for your next chance.
This is exactly what happened when Deb posted these super cute Rhubarb Hand Pies TWO YEARS AGO and I'm only just getting around to making them. I'm rolling my eyes at myself right now.
This was my second time making hand pies, and yeah, they're obviously a bit more work than a regular pie. But the cuteness that results is just too much, plus I love the crunch factor when you bite into the warm flaky pastry, which just isn't something you get when you eat a slice of pie (unless you eat from the back to the front, which I don't).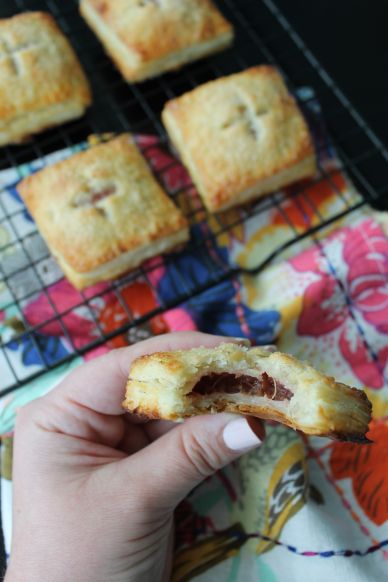 These hand pies are filled with equal amounts of a tart rhubarb compote filling and a sweet cream cheese filling. The original recipe uses lemon zest and lemon juice in the cream cheese filling, but I left those out and instead added a bit of vanilla bean paste. I really had to show restraint and not add too much filling, because I didn't want them to explode in the oven.
Super cute, very portable, and they're like summer in your hand. Now I want to make these again when I get my hands on some peaches!
Rhubarb Cream Cheese Hand Pies
Source: Smitten Kitchen
Yield: ~2 dozen hand pies, depending on the size of your cookie cutter
Ingredients
Pastry
3 3/4 cups flour
1 1/2 tbsp sugar
1 1/2 tsp salt
1 1/2 cups (3 sticks) butter, cold, cut into cubes
3/4 cup – 1 cup buttermilk
Rhubarb Filling
1lb chopped rhubarb
1/3 cup sugar
Cream Cheese Filling
4 oz cream cheese, cold
1/3 cup sugar
1 tsp vanilla bean paste
+ egg wash (1 egg whisked with 1 tbsp water)
+ coarse sugar
Directions
For pastry, whisk together the flour, sugar and salt in a large bowl. Sprinkle the butter cubes over the flour mixture, and cut in with a pastry cutter until the butter is the size of peas. Pour over 3/4 cup of buttermilk, and use a spatula to mix together. Knead together briefly and lightly until the mixture comes together, adding the remaining 1/4 cup buttermilk if needed. Split the dough in half, form into discs, and wrap separately in plastic wrap. Chill in the fridge for at least 1 hour.
For rhubarb filling, stir together the rhubarb and sugar in a medium saucepan and set over medium-low heat. Cover and let cook for 15 minutes, then take the cover off, stir and cook for another 15 minutes. Remove from heat, add rhubarb mixture to a bowl, and set in the fridge to cool.
For cream cheese filling, mix together the cream cheese, sugar and vanilla bean paste with an electric mixer until smooth. Set in the fridge to chill.
To make the hand pies, first preheat the oven to 400 and line two cookie sheets with parchment paper.
Dust the counter with flour and roll out the first disc of dough until about 1/8″ thick. Use a square or round cookie cutter (about 3″, but you could make them a bit bigger) to punch out shapes and place them on a cookie sheet lined with parchment paper.
Brush half the shapes lightly with the egg wash (these are the bottoms) and on the remaining shapes, score a little X with a sharp knife (these are the tops).
Add a very small dollop (about 1 tsp) of cream cheese filling onto the bottoms, then the same size dollop of rhubarb filling on top. Cover with a top and gently press around the edges to seal. Use a fork to press down on the edges. Brush the top with egg wash and sprinkle liberally with coarse sugar.
Bake for 15-20 minutes until golden brown.