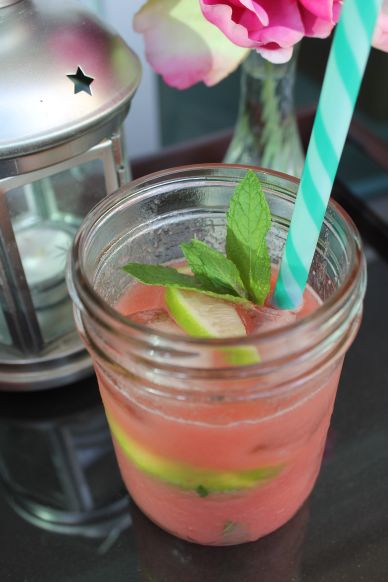 So it's August, and I'm still on rhubarb over here. I know that blueberries, cherries and peaches are waiting for me, so I've decided that this is the last week for rhubarb in my kitchen. I made some strawberry rhubarb jam yesterday, am working on a rhubarb recipe today that I've had bookmarked for THREE YEARS, and I think that's going to be it for 2015. I still have a big bag of chopped rhubarb in the freezer, but it's nice to know I can pop that out whenever I want.
It seems like every summer I try to make a rhubarb cocktail, and there's always room for one more. Last summer, I learned how to make cocktails with jam, and all of a sudden it became so obvious. Of course the fruit flavour will come through more if you use fruit purees, instead of simple syrup!
This rhubarb mojito couldn't be easier: muddle some lime wedges and mint leaves in a jar, add rhubarb puree (leftover from Rhubarb Lemon Bars) a shot of rum and top with a bit of sparking water. So refreshing and so delicious.
Rhubarb Mojito
Source: Heather Christo
Yield: 1 drank
Ingredients
1/2 lime, cut into wedges
6 fresh mint leaves
1/4 cup rhubarb puree
2 oz white rum
2 oz (or more) sparkling water
Directions
In the bottom of a glass or jar, muddle the lime and mint together (just use the handle of a wooden spoon) which will juice the limes a bit and tear up the mint.
Add the rhubarb puree, rum and sparking water and stir to combine. Add ice and a bit more sparking water if you like.