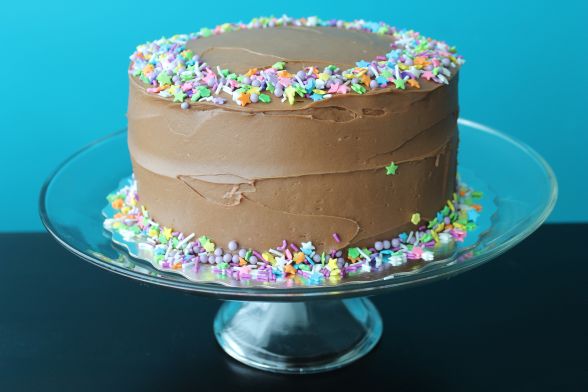 Today we're celebrating Martha Stewart's birthday with a classic yellow cake/chocolate icing combination from Baked Occasions. Matt has a deep love for Martha which he writes about in the book, and while I wouldn't consider myself a disciple, I can appreciate her domestic goddess-ness and attention to detail.
This recipe is very straightforward, and I don't have too much to add about it (unlike, say, the Ube Cake for example!). The cake has a hefty scoop of sour cream in it to keep it hydrated, but the real star of the show is this chocolate cream cheese frosting. It's unbelievably delicious, and it's getting flagged as my new go-to. Based on my experience with the Ube Cake's cream cheese frosting, I used cold cream cheese instead of room temperature, and it worked out perfectly.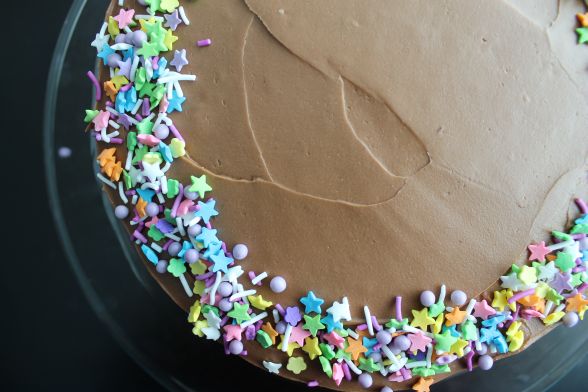 The only change I would make to this cake is to bake it in three layers, instead of two, as I found the layers quite thick, and basically this would be an excuse to fit in more frosting. I think it would also make outstanding cupcakes.
I brought this to a barbecue at my friend Christina's house, and instead of "Everyone's Favourite Birthday Cake" it acted as "Everyone's Favourite Culinary School Graduation Cake" as we celebrated Jenny's recent milestone.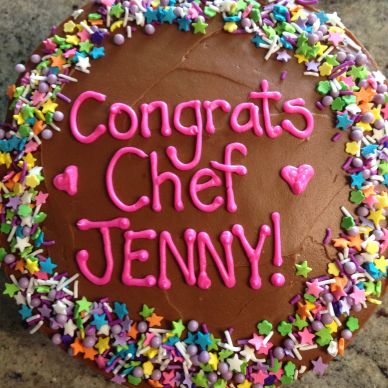 You can find the recipe here!
More Baked Sunday Mornings here!