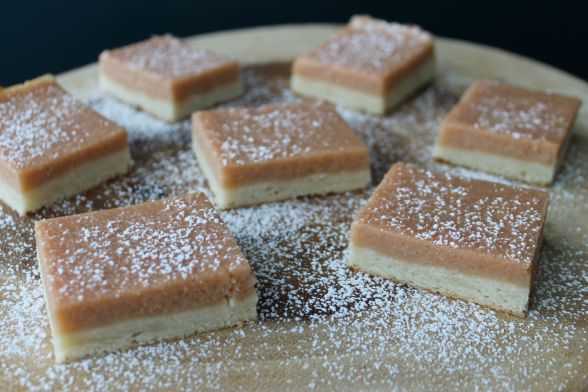 When I was sick back in June and lying around on my couch drinking hot water with honey and lemon, I pretty much resigned myself to the fact that I was going to completely miss rhubarb season this year. I accepted the sad tragedy that it would be a rhubarb-less summer here on Planet Byn.
But then I resurfaced at the beginning of July and made my first trip to the big Farmer's Market near my house, where there was one stall that still had rhubarb. I was so excited, and I bought about 12 huge stalks, mind on overdrive thinking about all the recipes I pinned in the Spring, but thought I'd have to wait another year to make.
I knew when I saw these bars on Broma Bakery that they would be my first recipe. Every year I try to find a new application for rhubarb, or a twist on something I've made in the past. These squares are basically a lemon square with the addition of rhubarb puree. The original recipe also uses a bit of red food colouring to up the pink factor, but I kept things natural, and liked the pretty peach colour I ended up with.
I wasn't quite sure the rhubarb flavour came through, but my #1 rhubarb recipe testers (Mom & Dad) loved them and assured me you could definitely tell it was rhubarb. The rest went to work, but people ate them so fast, I don't think anybody even wondered what they were, besides a free treat at 9am.
The recipe makes a little more rhubarb puree than you'll need for the bars, so I'll show you what I made with the leftovers next!
Rhubarb Lemon Bars
Source: Broma Bakery
Ingredients
Rhubarb Puree
3 cups chopped rhubarb
1/2 cup sugar
1/4 cup water
Crust
5 oz cream cheese, room temperature
1/2 cup (1 stick) butter, room temperature
2/3 cup sugar
1 tsp vanilla
1/2 tsp salt
1 1/3 cups flour
Filling
4 eggs
3/4 cup sugar
1 cup rhubarb puree
3 tbsp lemon juice
zest of 1 lemon
2 tsp vanilla
1/2 tsp salt
1/2 cup flour
Directions
First up, make the rhubarb puree. Add the rhubarb, sugar and water to a medium saucepan, and bring to a simmer over medium heat. Reduce heat to low and let simmer for 10 minutes or so, stirring occasionally, which will break up the rhubarb. Remove from heat and puree with an immersion blender until smooth. Let cool.
Preheat the oven to 350 and line an 9×13″ baking pan with foil. Spray the foil with non-stick spray.
To make the crust, add the cream cheese, butter, sugar, vanilla and salt to a bowl, and cream together on medium speed for a few minutes until smooth. Add the flour and blend until combined. Add to pan and press into an even layer. Bake for 15 minutes.
While crust is baking, make the filling. In a large bowl, whisk together the eggs, sugar, rhubarb puree, lemon juice, lemon zest, vanilla and salt. Whisk in the flour then pour over crust. Bake for 20 minutes, then let cool. Chill in the fridge before slicing.