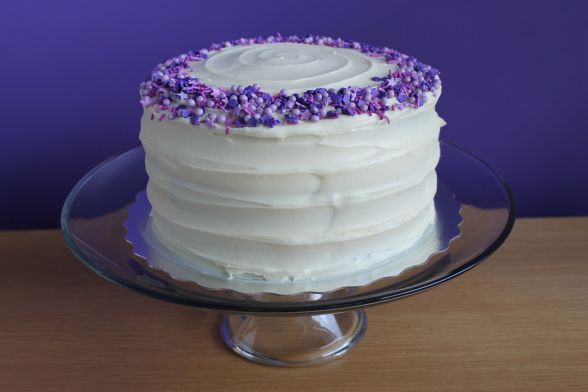 I was so excited back in October to finally get my hands on a copy of Baked Occasions. Even though I had a preview of the book after testing out almost a dozen recipes, I couldn't wait to see what other treats were inside. After the launch party at Baked Tribeca, I went back to my hotel, got into bed and cracked it open. My jaw dropped open when I found an UBE CAKE inside. How did the Baked boys know about ube?!?!
When I was growing up, ube desserts were always on the tables at my Filipino friends' houses, and this was how I was introduced to this pretty purple vegetable. My friend Kristine would always pass on an ube treat from Red Ribbon whenever her family brought some for her, and we also made sure to visit a Red Ribbon in Vegas last time we were there together. I have been obsessed with making ube treats ever since (you can see it in my blog-iversary goals from back in 2011), but could never find purple yams anywhere.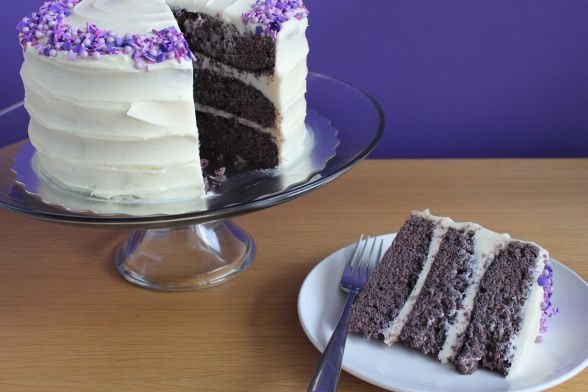 I immediately knew this would be the most fun recipe for me to make from Baked Occasions, and when I saw it on our schedule for this summer, I was so happy. After a small matter of procuring ube powder (I had to order it off Ebay because Amazon.com wouldn't ship it to Canada) I was in business. The first thing you have to do for this recipe is rehydrate your ube, so you just cook the ube powder with water until it reaches the consistency of mashed potatoes.
Once you add the rest of your standard cake ingredients, the purple is quite muted, and I'd say the cake batter is looking pretty gray. I didn't want to add too much purple food colouring to it (read this post on red velvet cake to find out why) but then again, when you look at Red Ribbon's ube treats, they are pretty bright. I compromised and added enough food colouring to make it look purple, but not enough so that it was fake looking. Here's what a Red Ribbon Ube Cake looks like in comparison (Kristine had just given me one last week, perfect timing):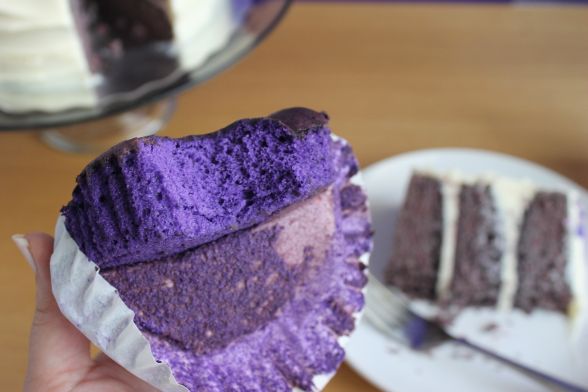 The layers baked up nice and flat, and I got my cream cheese frosting mixed up and ready to go. The frosting was a bit runny for me, and I ended up adding about 2 more cups of icing sugar to it. I think the real solution is to always start with cold cream cheese, instead of room temperature. I also had my customized purple sprinkle mix ready that I made by going to Bulk Barn and buying a few sprinkle shapes, picking out the purple ones, and combining them all together. I copied this from Sweetapolita, who is selling her own sprinkle mixes in her Etsy shop, but mine cost me less than $5 and I had so many left over.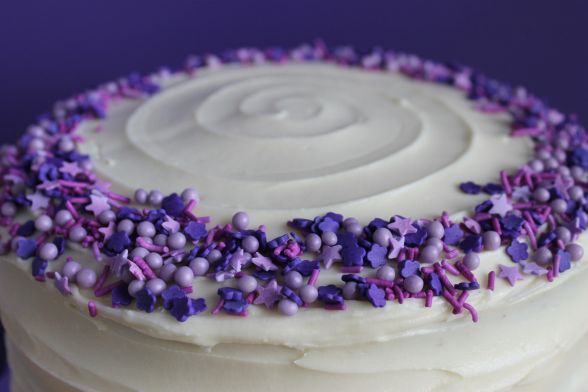 I absolutely loved the way the cake turned out! Just so, so, cute. I sliced it up and was excited to see my purple layers inside. Maybe they could have been more purple, but I'm glad I showed a bit of restraint with the food colouring. It's really hard to describe the flavour of ube, but I will say the cake was dense, hydrated and almost earthy tasting, but that's not really the right word. I ate a slice, cut two to share with friends at work, and wrapped up the rest of the cake to take to Kristine and her family, since it was her sister Mae's birthday yesterday.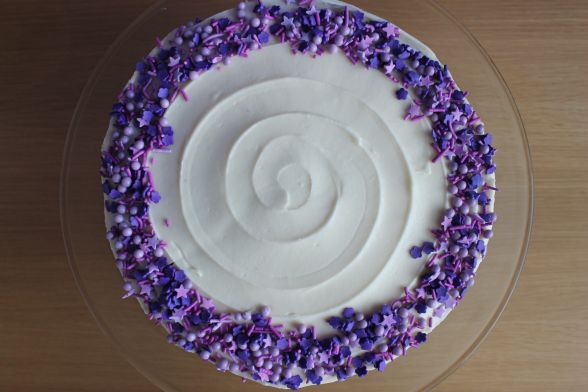 This is no doubt the most fun baking project I have had in a long time. I need to get my hands on more ube powder!!!
Note: Each recipe in Baked Occasions corresponds with a holiday, and the one for this recipe is Hunter S. Thompson's birthday. It's actually called Gonzo Cake in the book, and Matt writes about his love for the author and his style of 'gonzo' journalism. Obviously I only saw UBE and read no further!
You can find the recipe here!
More Baked Sunday Mornings here!