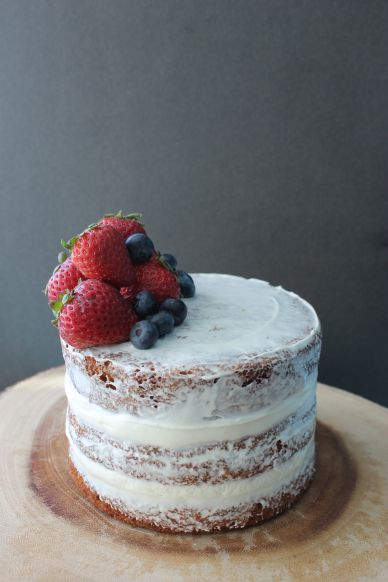 Baking layer cakes is pretty much like therapy for me. I can rush my way through a batch of cookies or make a pan of brownies practically with my eyes closed, but layer cakes demand time, patience and love. We have a few coming up on our Baked Sunday Morning schedule and I can't wait to make them.
I made this little cake for dessert for Father's Day last month, and decided to try my hand at decorating it 'Naked Cake' style. I've seen this everywhere on blogs and Pinterest lately, but Christina Tosi from Momofuku Milk Bar has been leaving the sides of her cakes unfrosted for years.  Some styles I've seen leave the sides totally bare, while others add a very thin coating, which I tried to do here. I think it looks cute, but also kind of like I did the crumb coat and then ran out of icing. But let's be honest here, the main problem is that there is LESS ICING ON THE CAKE WHEN YOU EAT IT. Not okay!
The cake itself is a banana/pineapple situation called a Hummingbird Cake. My Dad has been saying he's sick of Carrot Cake lately, which is one of his faves, so I thought this would be sort of similar but with a twist. The original recipe also includes a whole bunch of chopped pecans, but I left those out. I can't emphasize enough that this is the most hydrated cake that I have ever made. So much so that after I started to pile on the fresh strawberries and blueberries, things were getting very lopsided very quickly. We absolutely loved this, and I would totally make it again.
Hummingbird Cake
Source: Cake Brown Eyed Baker // Icing Annie's Eats
Ingredients
Cake
1 cup vegetable oil
2 cups sugar
3 eggs
2 tsp vanilla
3 cups flour
2 tsp baking powder
1 tsp baking soda
1 tsp cinnamon
4 ripe bananas, peeled and mashed with a fork
1 16oz can crushed pineapple, drained and 1/3 cup juice reserved
1 1/2 cups pecans, toasted and chopped (optional)
Icing
10 oz cream cheese, chilled
6 1/2 tbsp butter, room temperature
3 1/4 cups icing sugar
2 tsp vanilla extract
Directions
Preheat oven to 350 and spray two 8 or 9″ cake pans with non-stick spray. (I actually halved the recipe and baked it in 3 little 6″ pans).
In a large bowl, whisk together the oil, sugar, eggs and vanilla.
Stir in the flour, baking powder, baking soda and cinnamon.
Fold in the bananas, pineapple and nuts (if using).
Divide batter into pans and bake for 50-60 minutes or until a toothpick inserted into the centre of the cake comes out clean. Let cool in pans for 20 minutes, then turn out onto cooling racks to cool completely.
For icing, beat the cream cheese and butter on high speed until light and fluffy, about 2-3 minutes. Add the icing sugar and mix on low until incorporated, then mix on high until smooth and light, a few minutes more. Add the vanilla and mix again until combined.
Assemble and frost as you see fit!