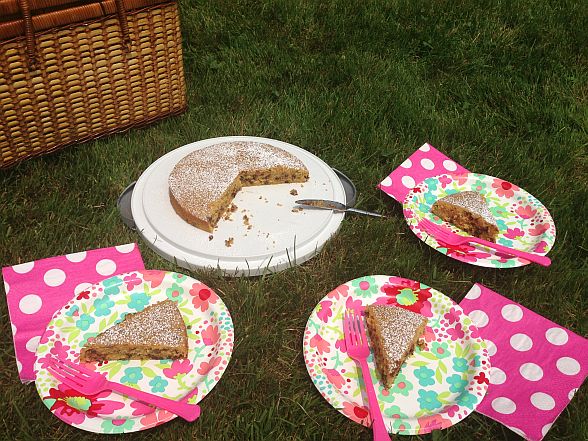 Our Baked Sunday Morning project for this week was an Orange Buttermilk Picnic Cake with Chocolate Chips to celebrate the Fourth of July. The idea behind it is that it's a single layer, easily transportable, sturdy cake that would be perfect to bring along to a picnic.
I loved reading the Baked boys intro to this recipe because I feel the EXACT same way about picnics. Every summer I go on and on about wanting to go on a picnic. I think of a big blanket spread on the grass, tons of food, relaxing in the sun, etc. etc. In reality, I hate nature, bugs, questionable lukewarm food that has been sitting outside too long, and sweating. I'm really the worst.
However, I have recently made a commitment to spending more time outside, whether it's getting up from my desk and going for walks on my lunch break or hanging out more in my parents backyard on the weekends. That's where I brought this cake today, and I set up this cute little scene above, complete with a picnic basket from the '90s that my Mom dug out of the crawl space. I can't say we actually sat on the grass and ate it, but I did eat it outside. It's a start.
Now, the cake. It brought up a lot of complicated issues for me, as I'm not a fan of orange and chocolate together. But here's thing: this cake is delicious! It's super hydrated from the buttermilk, and the orange/chocolate combo didn't distract me too much. You poke a bunch of holes in the warm cake after you take it out of the pan and brush on a simple syrup make of freshly squeezed orange juice, orange liqueur (I used Cointreau) and sugar. This also goes a long way to keeping the cake hydrated.
I would definitely make this again, but just because of personal preference, leave out the orange zest (I didn't add the orange extract because I didn't want to buy a bottle for only 3/4 tsp) and make a vanilla bean simple syrup to brush on at the end. Who knows, maybe I will go on a picnic by the end of the summer!
You can find the recipe here!
More Baked Sunday Mornings here!