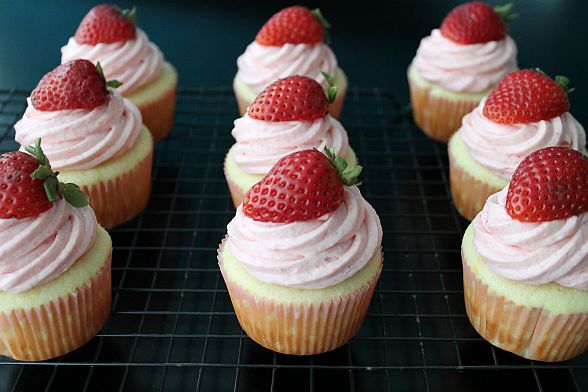 Well let's get July started off right! As I mentioned the other day, June was not the greatest month on the foodie front over here. What I didn't talk about was the greatest tragedy of all: it appears as though I've missed out on rhubarb this year. I'm going to see what I can find this weekend, so perhaps there will be a few rhubarb posts next week. We'll see.
In the meantime, it was my new* manager's birthday on Canada Day, so I brought these cupcakes into work on Tuesday; some for us to eat and some for her to take home and share with her family. Originally I was going to go with a chocolate espresso cupcake because she loves coffee, but something light and summery was just calling my name.
On the bottom we've got a lemon cupcake that I found on Annie's Eats. Her original recipe includes blueberries, so I actually may have to make these again when I get my hands on some local blueberries later this month. On the top is My Favourite Buttercream, except I replaced the cream/milk with pureed and strained strawberries. This tints the icing a pretty light pink, and makes it taste like strawberry ice cream.
I topped all of the cupcakes with a strawberry half, but learn from my mistake and only do this right before you're going to serve them. I put them on before I left for work and by the time I arrived the strawberry juice was running down the sides. I think these would also be outstanding with raspberry puree in the icing.
*I recently passed the one year mark in my job, and yet still think of it as new in my mind.
Strawberry Lemonade Cupcakes
Source: Cupcakes – Annie's Eats // Icing – adapted from My Fave
Ingredients
Cupcakes
3/4 cup flour
3/4 cup cake & pastry flour (just use more all-purpose flour if you don't have this)
1 1/2 tsp baking powder
1/4 tsp salt
1/2 cup (1 stick) butter, room temperature
3/4 cup + 2 tbsp sugar
zest of 1 or 2 lemons (I used 2)
2 eggs
2 tbsp lemon juice
1 tsp vanilla
1/2 cup + 2 tbsp milk (I used buttermilk, it's what I had in the fridge)
Icing
1/2 cup (1 stick) butter, room temperature
2 1/2 cups icing sugar
1/4 cup strawberry puree (I used my immersion blender to puree about 5 or 6 strawberries and then passed them through a fine mesh sieve to strain the seeds)
Directions
Preheat the oven to 350 and line 12 cupcake tins with liners.
In a medium bowl, whisk together the flours, baking powder and salt.
In a large bowl, cream together the butter, sugar and lemon zest until light and fluffy, 2 or 3 minutes. Mix in the eggs, lemon juice and vanilla and mix again until combined.
Add 1/2 the flour mixture, then the milk, then the rest of the flour mixture, blending after each addition until well combined.
Divide into cupcake tins, filling about 3/4 of the way full. (You might have enough for 1 or 2 more cupcakes). Bake for 20-22 minutes or until a toothpick inserted in the centre of each cupcake comes out clean. Let cool completely before frosting.
For icing, add the butter to a large bowl and whip with the mixer for a minute or so to lighten. Add the icing sugar and strawberry puree, and stir it a bit with a spatula until it starts to come together, then switch to the mixer. Whip for a couple minutes until nice and smooth. Pipe onto cupcakes and top with a strawberry slice.