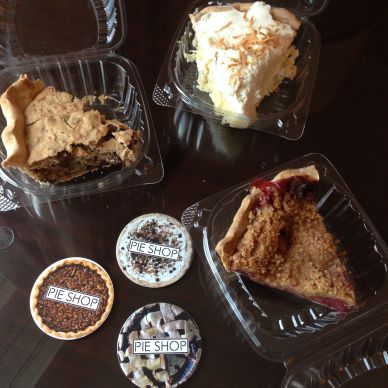 The first half of this month revolved around researching and prepping for a long weekend trip to Atlanta (which I'll write more about soon) and the second half was all about the weddings of two of my close friends. Here's what I was up to in between:
First of all, my beloved co-worker who is allergic to nuts GOT A NEW JOB!!! I mean, I really love him, but of course I brought a gigantic jar of peanut butter to work the first day he was gone. The knowledge that I can have peanut butter and crackers at my desk anytime I want is a game-changer for me!
Jenny hosted an International Potluck at her home for our FBM crew. Everyone picked a country and made recipes from that area. It was pretty epic. We're talking everything from Pork Belly Bahn Mi (Vietnam) to Pancit (Phillipines) to Tres Leches Cake (Mexico). Unfortunately I wasn't happy with the way my Portuguese Custard Tarts turned out. I think this is something best left to actual Portuguese bakeries. It just made me wonder even more how they get that flaky, but almost chewy, crust. It also made me realize I want a kitchen torch so bad.
I met my friends at Gusto 101 for brunch and just had the best time. I have complicated feelings re: brunch (described here), but sitting on Gusto's rooftop patio with your girls over a leisurely meal in the sun can't be beat. (Just saying I can make a better frittata at home. JUST SAYING).
Every year when I'm in Florida I watch ungodly amounts of American Food Network and Cooking Channel. My Mom usually watches along with me and will be like "Ooooh, make me that" and "I want that when I get home" and everything involves CHEESE. So for Mother's Day lunch, I made us Pioneer Woman's Tortellini Primavera, Jan's Spring Salad, some herbed goat cheese and Raincoast Crisps, and that Ultralemony Bundt for dessert. She loved everything!
Once I got home from Atlanta, I had two nights to pull together my niece's birthday cake. She requested a Rainbow Cake, but with the elusive INDIGO layer included this time! My SIL said everyone absolutely loved it, and it's true: this cake is a stunner.
I closed out the month by attending two weddings as I mentioned above. First up was Aoife & Brad's Wedding at Vineland Estates Winery in Niagara. The food was amazing, and I chose beef tenderloin for my entrée, which came with blue cheese, red wine reduction (of course!), mashed potatoes and seasonal vegetables.
Next was Nicole & Geoff's Wedding at a cute little art gallery in their neighbourhood, Parkdale. It was catered by the Food Dudes, and everything was fantastic. Again, I chose the beef option for my entrée (what can I say, I never cook it at home!) which was a 12-hour braised shortrib with cauliflower puree, and this celeriac and cheddar croquette. They also had amazing apps, including a french onion soup wonton (what!) and mac & cheese at midnight.
Other non-foodie things I was obsessed with this month:
Okay, so I have been sick twice this month; once with a head cold right before Atlanta, and then with a cough between the weddings. I'm a hot mess, what can I say. Anyway, I busted out a bunch of my old 90s/00s teen movies to watch while I lied on the couch cuddled up with my box of Kleenex: She's All That, 10 Things I Hate About You, and Cruel Intentions. OMG. The best.
Not even ashamed to say my favourite show has returned: The Bachelorette! I'm so happy the boys picked Kaitlyn. Honestly Britt is so annoying, and I would not have watched if they chose her (okay I probably would have, who are we kidding).
I finally saw Avengers 2! Now Summer Movie Season can truly begin!