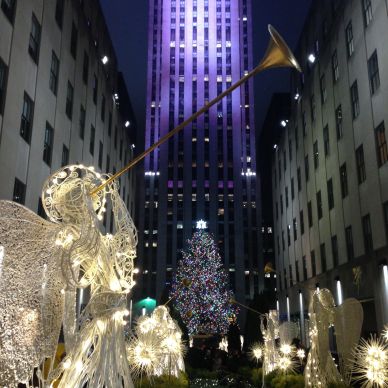 This post is WAY overdue, but I've recently had a few friends and co-workers ask me for New York bakery and restaurant recommendations, so it's time to get this recap going! First a little background.
My friend Lydia and I take a trip to New York City every five years. Our first trip was in 2004, in a pre-blog, post Sex & The City world, and our friend Devon who lives there took us to Sushi Samba and to Magnolia for cupcakes. We had a cute dinner at Café St. Barts, some slices of pizza on the street, and as far as food goes, that's about it.
When we went back in 2009, I was still about six months from the starting Planet Byn, but was a year or so deep into my Smitten Kitchen obsession. I think almost everywhere we ate was a SK recommendation. Lydia was also pregnant with Ethan, and as I like to joke, as hungry as I was for the time in our friendship. Perhaps I shall write a Retro-blog on that trip, because we ate a lot of amazing things.
In a random twist,  Lydia and I both went to NYC separately in 2014 before our trip together. Lydia and her husband in June for one night en route to St. Maarten, me on a 36-hr whirlwhind adventure in October.  For our third trip this past December, it was extra special because it was our first trip at Christmas (our previous visits were in May and August), and everything in New York is just so much more magical at Christmastime. To keep things in context, we arrived mid-morning on a Friday, and left early evening on Sunday. Here's what we got up to on the foodie front in between:
 Other non-foodie related adventures:
 We stayed at the W in Midtown, which was within walking distance of Rockefeller Plaza. Our room was quite small, but the bed was comfy, there were Bliss brand products in the bathroom, and a cute little lounge with free WiFi on the main floor.
We have a history of seeing female celebrities on all of our trips (Julianne Moore, Tina Fey, Mary-Louise Parker, Blake Lively), and Lydia was predicting we were due to have a major male celebrity encounter. Welp, we did. KANYE WEST y'all. Just walking out of a random building in the Village. No entourage, no Kardashians. I said "What's up Kanye?" and he smiled and got into his car, while Lydia freaked out.
On Saturday night we went to see the Radio City Christmas Spectacular, starring The Rockettes, and it was so much fun. We also did basically any other New York City Christmas cliche you can think of: Christmas Tree in Rockefeller Plaza, FAO Schwartz, department store window displays, and trying to sneak a peak at Santa at Macy's.
You can see pictures from the whole weekend on my Instagram! Can't wait to go back with Lydia in another 5 years!