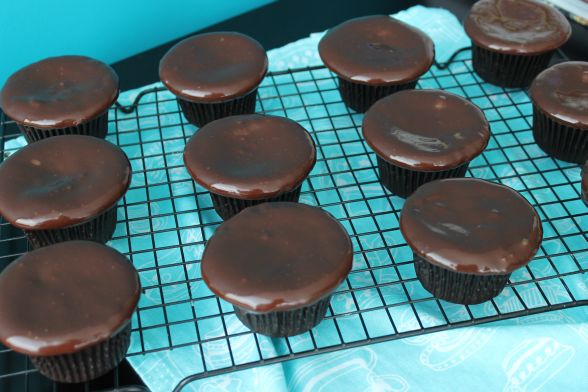 Yesterday I celebrated the wedding of my dear friends Aoife & Brad at Vinelane Estates Winery in Niagara, Ontario. I brought home a bottle of red wine and whipped these up this afternoon because I knew they were on our Baked Sunday Mornings schedule.
Ha! You guys know me better than that by now! In reality I spent the day lying on my couch catching up on Scandal and The Bachelorette! These cupcakes were actually the very first recipe I tested for Baked Occasions almost two years ago. I still remember how excited I was, and I reserved a whole Saturday to make them and take detailed notes on the whole process. I went to the LCBO (liquor store here in Ontario) and a helpful staff member recommended a bottle of Ghost Pines Merlot from California once I described what I was using it for. This is the description on the back of the bottle: flavours of black cherry and ripe berries complement mocha and brown spice notes finishing with a generous supple texture.
The recipe was perfect as written, and my only commentary was that the cupcakes don't bake up with a dome, and actually sink a bit in the middle once they cooled. Normally this isn't a big deal, but because these are topped with a chocolate glaze and not frosting, the glaze pools together a bit in the middle. Doesn't affect the taste of course, but just not what we're generally used to when we make cupcakes. The boys actually include a note in the book about this, and offer a suggestion to bump up the temperature of your oven when preheating, and then reducing it once the cupcakes go in, which will help them rise a bit more.
I brought these into work (my old department), and told everyone there was a secret ingredient in them. I put a piece of paper and pen next to the cupcakes and had people try to guess what it was. With 1 1/4 cups of wine baked into 24 cupcakes, I was curious to see if my co-workers could actually pinpoint the mystery flavour. There were a lot of guesses (Dr. Pepper is one I remember) but no one actually guessed it!
I think these would be a great dessert to bring to a wine & cheese party, or as a treat for a red wine lover who also loves chocolate.
You can find the recipe here!
More Baked Sunday Mornings here!