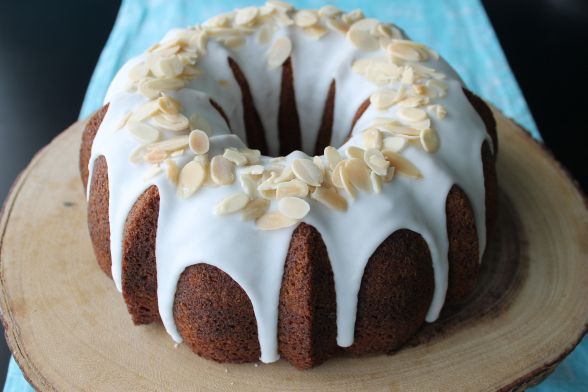 When Mother's Day and Baked Sunday Morning collide, you know you're in for a treat. Our recipe for this week was an Ultralemony Lemon Bundt Cake with Almond Glaze, and it was the perfect end to dinner with my Mom. The Baked boys sure love their bundt cakes, and they're one of my favourite things to bake — as long as they pop out of the pan without leaving anything behind.
There were a couple of curious ingredients for the cake, the first being lemon extract. I've never bought this before, and wonder why we use it instead of lemon juice. It smelled the same to me, but perhaps it imparts a more intense lemony flavour. We're also asked to use the zest of TEN lemons, which seemed crazy to me. I mean, I know "ultralemony" is in the title, but really? Not to mention the fact that lemons are like $1.29 each in my grocery store, but they were really big, so I just bought five and went with it. (Fellow BSMer Sheri has a lemon tree! Jealous! The joy of living in California!) The recipe also calls for a bit of rum, but I just left that out.
Once you take the bundt out of the pan, you poke it all over the place with a toothpick and then brush it with a simple lemon syrup. This keeps the cake super hydrated and bumps up the lemonyness even more. The glaze for the cake is where the almonds come in; it's lemon juice, almond extract and a whole heap of icing sugar. Toasted sliced almonds get sprinkled over the top and you're done!
This cake is everything you think it would be — super hydrated, super lemony, super delicious. I found the almond extract a teensy bit distracting in the glaze. I might just use all lemon juice next time. Other than that, it's perfect.
I'll post about the rest of our Mother's Day dinner later this week!
You can find the recipe here!
More Baked Sunday Mornings here!