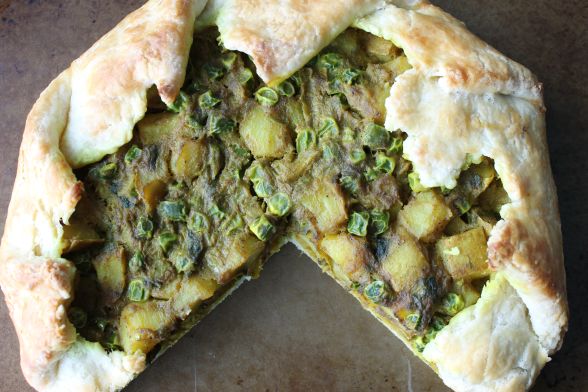 Samosas are something that I always thought were best left to the pros. Two jobs ago, I had a lovely friend on my team that would bring me samosas and a trio of dipping sauces from her local Indian restaurant/bakery/store. She was the best, and those samosas were a joy in my life. She moved on, and I moved on, and even though I missed them, I never really considered trying to make them myself. First of all, my kitchen is a no-fry zone, and second of all, I feel like the spices are really intimidating.
When I saw Jan's post for a Savoury Samosa Galette on Simple Bites in OCTOBER 2013 (procrastinate much?) I bookmarked it right away. The recipe seemed approachable and delicious, wasn't fried, and since it was in a galette formation, there was no intensive labour to wrap everything up in little packets.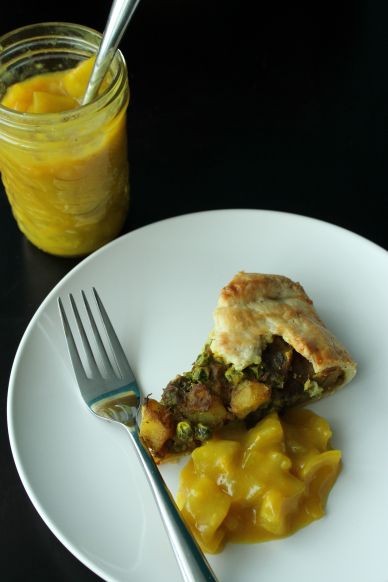 I finally made this back in January (again, procrastination is my jam), and it was incredible. I used Charmian's pastry, and piled Jan's filling in the middle. It's full of potatoes, peas, and a mixture of spices I already had in my cupboard. I'm still not brave enough to use actual seeds (cumin + fennel) so I just left those out.
This was amazing hot, at room temperature and even directly from the fridge. Jan suggests a homemade chutney to serve alongside, so I ate mine with both a jarred peach chutney I had hanging around, and my Mom's classic mustard pickles (my life, my love, I should really figure out how to make these too, I eat them with everything).
I feel like it's getting a little too hot out for something this rich and spicy, but of course I wanted to make sure I blogged it so I remember it for the Fall.
Side note: Jan is crushing it these days! I guess I have the appetite of a teenage boy (of which she has two) because everything she's making these days I'm dying for: Spicy Honey & Soy Pork, Bacon & Egg Baked Baguette, Patatas Bravas.
Samosa Galette
Source: Jan via Simple Bites
Ingredients
2 tbsp grapeseed oil
1 medium onion, finely chopped
1″ piece ginger, peeled and minced or 1/2 tbsp minced ginger from a jar
1 tsp tumeric
1 tsp cumin
1/2 tsp garam masala
1 tsp salt
1/2 tsp freshly ground black pepper
1/8 tsp cayenne pepper
2 cups diced unpeeled potatoes
1 1/2 cups vegetable stock or water
1 cup frozen peas
2 tsp cilantro
+ 1 pie crust, your favourite recipe (or a frozen one, perhaps you have one leftover from making Strawberry Pie?)
+ egg wash (1 egg whisked with 1 tbsp water)
Directions
In a large saucepan or dutch oven, heat the oil over medium heat. Add the onion and saute for about 5 minutes until softened. Add the ginger, tumeric, cumin, garam masala, salt, pepper and cayenne. Stir and cook for about a minute.
Add the potatoes and cook or 5 minutes, then pour over the stock/water, and stir. Bring to a boil, then reduce heat to medium-low and simmer for about 20 minutes until the potatoes are cooked through, and the liquid has reduced and thickened.
Stir in the peas and cilantro, remove from heat, and let cool completely.
When filling has cooled, heat the oven to 425. Roll out your pie dough to a 12″ circle, then transfer to a parchment paper lined baking sheet. Pour the filling into the middle of the dough, leaving about a 2″ border. Fold up the edges of the dough over the filling, overlapping every few inches. Brush pastry with egg wash.
Bake for about 30 minutes until the crust is golden brown. Serve with chutney of your choice. I'm drooling right now.