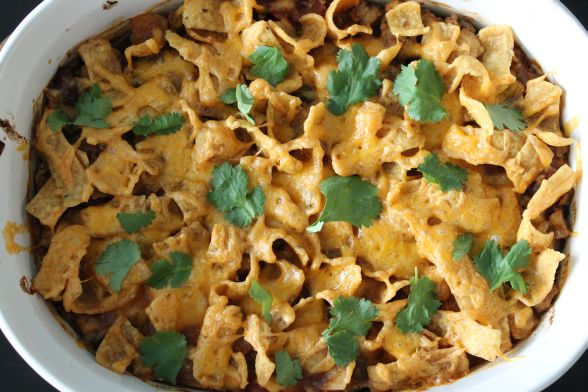 It's Cinco de Mayo today, so it's a perfect excuse to log this Frito Pie that I made a couple of months ago. Although who really needs an excuse to cover chili with corn chips and cheese and call it dinner? Certainly not me.
I can't think of where I first heard about Frito Pie, so it must be The Pioneer Woman. Apparently this is a snack that's sold at State Fairs down south, where they pour the chili directly into a small bag of Fritos and sprinkle cheese on top. I endorse this.
This version I found on Bev Cooks is a simple, turkey chili recipe that you then pour into a baking dish, top with corn chips (i.e. Fritos), sprinkle with cheese and bake until the cheese is bubbly and delicious. I'm going to tell you what this means: it's like eating a bowl of chili WITH A LAYER OF NACHOS ON TOP. Amazing. You also get to snack on the bag of Fritos as you're cooking, which is incentive enough for me to make this again.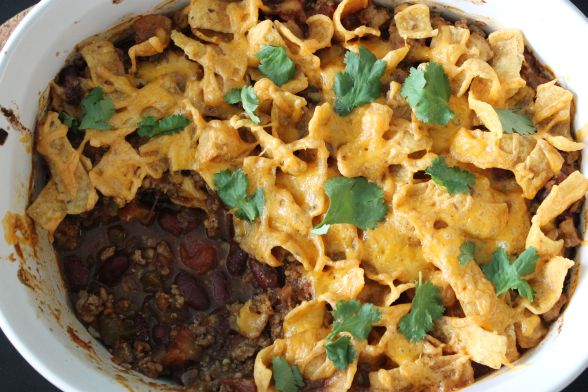 Of course, anything goes for toppings here: hot sauce, sour cream, avocado, cilantro. I really should have put this on my menu plan for tonight, but instead I'm going to try something I've had bookmarked forever. We'll see how that goes.
Frito Pie
Source: Bev Cooks
Ingredients
2 tsp olive oil
1 lb ground turkey
1/2 red onion, minced
1 jalapeno, seeds removed, minced
4 cloves garlic, minced
1 tbsp chili powder
1 tbsp cumin
14oz diced tomatoes
1 can red kidney beans
1 can green chiles (the little can)
+ Fritos (the regular kind, not BBQ)
+ grated cheddar cheese
Directions
In a large saucepan or dutch oven, heat the oil over medium heat. Add the ground turkey, stir and cook until browned.
Add the onion, jalapeno and garlic, and cook for about 5 minutes until the vegetables have softened.
Add the chili powder and cumin and stir until combined.
Add the tomatoes, beans and chiles, stir, then season with salt and pepper. Turn down heat to medium-low and let simmer for about half an hour. When almost done, preheat the oven to 375.
Pour the chili into a casserole dish, and sprinkle with Fritos and then top with cheese (obviously the more the better on both those ingredients!).
Bake for 20 minutes or so until the cheese is bubbling and the Fritos are golden brown.