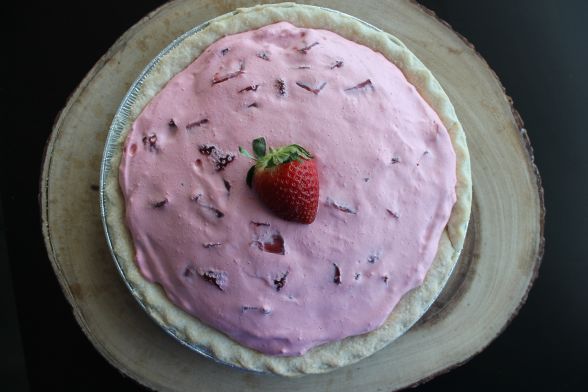 I'm super excited to share this quick and easy recipe today! *insert sound of record scratching here* APRIL FOOL'S! I can't even keep up this charade as a joke. Let me take a minute to explain.
On my 5th blog-iversary, a mean internet troll my brother left me a comment that said: "Meh. The continuing lack of gelatin-based strawberry desserts on this blog is disappointing. Unsubscribe".
Over the years, you have heard me repeatedly mention my brother's love for a dessert known as Strawberry Pie. My Mom made this for us frequently while we were growing up, along with Lemon Meringue Pie (my brother Joel's favourite) and Skor Bar Dessert. To this day, every time I show up for a family event,  Chris still asks if I made Strawberry Pie. So I decided that for a special April Fool's post (as in, there is no way I would ever seriously put this recipe out into the world) I would finally document this truly horrifying dessert.
 What do you need?
Pie crust from a box, don't even think about making one from scratch
Box of Strawberry Jell-O
Tub of Cool Whip
Water, both boiling, cold, and in the form of cubes
Fresh strawberries (optional, see Chris' opinion on this below)
I brought this creation over to my brother's house last weekend, and this time, when he excitedly guessed what I brought for dessert,  he was actually RIGHT. His only complaint was that there were TOO MANY FRESH STRAWBERRIES, and he left them in a little pile on the side of his plate. I MEAN REALLY! He said that over the years he would ask my Mom to put in fewer and fewer until the filling was just a mixture of straight up Jell-O and Cool Whip.
I ate the tiniest little sliver you can imagine, and it tasted like all my childhood nightmares in a convenient pie formation.
Here's the recipe anyway. Sorry.
Strawberry Pie
Source: Mom (originally a Kraft recipe, probably on the back of the Jell-O box)
Ingredients
1 frozen pie crust, thawed and baked according to the directions on the box
1 pkg Strawberry Jell-O
2/3 cup boiling water
1/2 cup cold water, and enough ice cubes to make it 1 cup
1 1/2 cups Cool Whip, thawed
 1/2 -1 cup sliced fresh strawberries
Directions
In a large bowl, add the Jell-O powder, then add the boiling water, and stir for a few minutes until dissolved.
Add the cold water/ice mixture and stir for a couple minutes until the Jell-O starts to thicken. Remove the ice cubes with a slotted spoon.
Whisk in the Cool Whip, then stir in the strawberries, if using.
Chill for about 30 minutes, then stir again and add to the pie crust. Smooth the top with an offset spatula.
Chill for 2-3 hours.